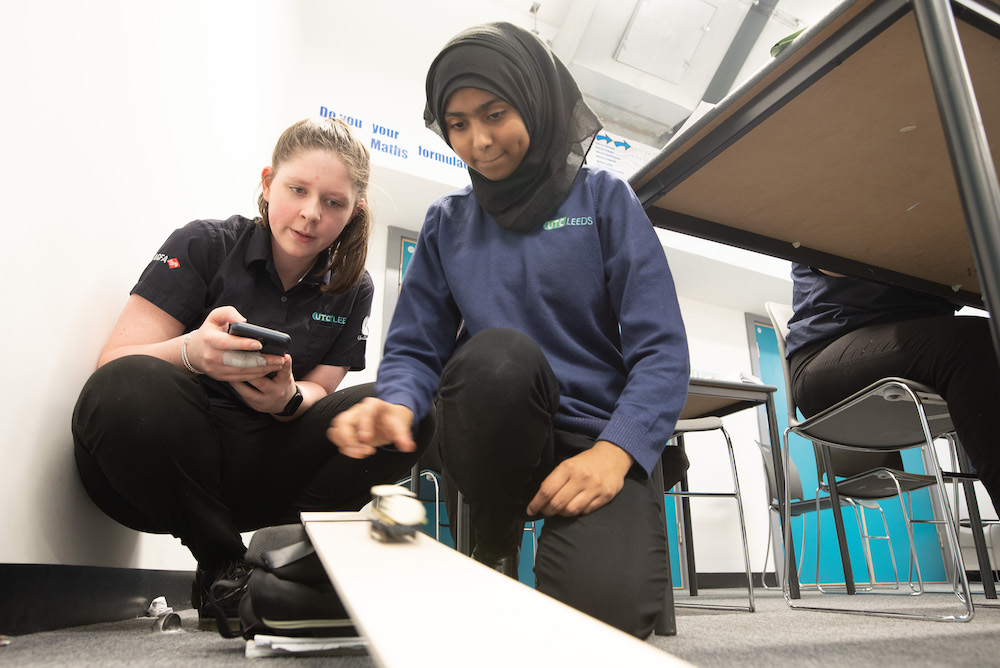 UTC Leeds students are putting their engineering and programming skills to the test in an innovative robotics programme led by the University of Leeds.
PhD student Orla Gibson, from the University of Leeds, is working with UTC students to develop their maths skills through applied learning as part of the Discover Robo Maths programme.
Year 10 students are designing their own robotic buggies with the ability to perform set tasks. This involves learning the mathematical equations that calculate speed, velocity, distance, time and acceleration as part of the process.
The students have been developing their science, technology, engineering and mathematics skills during weekly sessions this term, and have been invited to visit the University to test their robotic buggies.
The project is also developing students' employability skills including communication, teamworking and problem solving.
Robotics is a branch of engineering and science that includes mechanical engineering, electronic engineering, information engineering and computer science.
Student Summer Khurshid, aged 15, wants a career in aerospace engineering. She said:
"I chose UTC Leeds because I've got a big interest in engineering and I can specialise in that subject here as well as taking GCSEs. I really like this project because it's practical and fun."
Student Ammor Masud, aged 14, wants a career in computer hardware engineering. He added:
"I'm really happy here. I've learnt a lot in just a few months. I'm really enjoying this project because it's relevant to the career that I want to work in."
Alex Burnham, Principal of UTC Leeds, said:
"What sets us apart from traditional schools is that our students work on real life technical challenges and develop the skills that engineering employers need.

"Our fantastic partnership with the University of Leeds also gives our students a competitive edge when they are applying for apprenticeships, jobs and university places."
Steve Gleadall, STEM Outreach Manager at the University of Leeds, said:
"The Educational Engagement team at the University of Leeds provide young people with opportunities to discover more about higher education and experience the subjects we offer in a practical and fun way.

"Discover Robo Maths is a great opportunity for us to introduce UTC students to some of the methods of learning and skills needed when studying engineering at university such as researching, problem solving, and presenting results. It has allowed the students to apply their mathematical knowledge to a real-world challenge and it will enrich their understanding of maths in an engineering context."
UTC Leeds, on Sayner Road in Hunslet, is a technical school that specialises in advanced engineering and manufacturing and is sponsored by leading employers and the University of Leeds and Leeds Chamber of Commerce.
Students complete academic and technical qualifications and learn in industry standard facilities with areas designated for scientific research, advanced design, computer aided design, manufacturing and robotics.
University Technical Colleges have been designed to meet the needs of employers by training the next generation of talent with the right skills and knowledge to fill the jobs of tomorrow.
More than 70 employers including Agfa Graphics, Braime Pressings Ltd, Lambert Engineering, Siemens, Sound Leisure and Unilever support the UTC, which recruits from across Leeds City Region.
Students can join the UTC in Year 10 aged 14 or in Year 12 aged 16. The first cohort that graduated last summer has gone onto some top universities and apprenticeships with leading employers.
They include AECOM, Airedale Air Conditioning, Dyson Institute of Engineering and Schneider Electric as well as the University of Birmingham, University of Huddersfield, University of Keele and University of Leeds.
For more information about UTC Leeds and the next open evening on Wednesday 13 March 2019, from 6-8pm, visit www.utcleeds.co.uk or call (0113) 353 0140.
This post is based on a press release issued on behalf of UTC Leeds