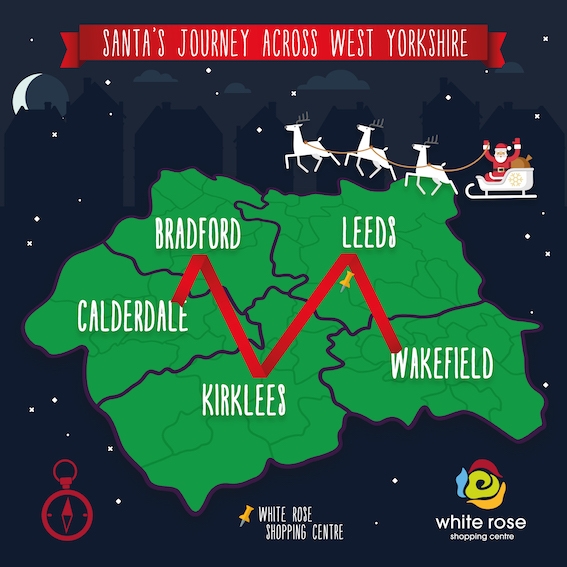 Ho Ho Hope He's Strapped In: Santa Set to Race Through West Yorkshire in 2.4 Seconds This Christmas
Santa will be spending a brief 2.4 seconds in West Yorkshire this Christmas Eve, racing through the county at a lightning 2,989 km per second (around 1,850 miles per second), research by Leeds-based White Rose Shopping Centre has revealed.
The study was undertaken after it was confirmed that White Rose is the Leeds shopping centre closest to West Yorkshire's geographical centre – the perfect place for Santa to stop and gather gifts for all of the region's children.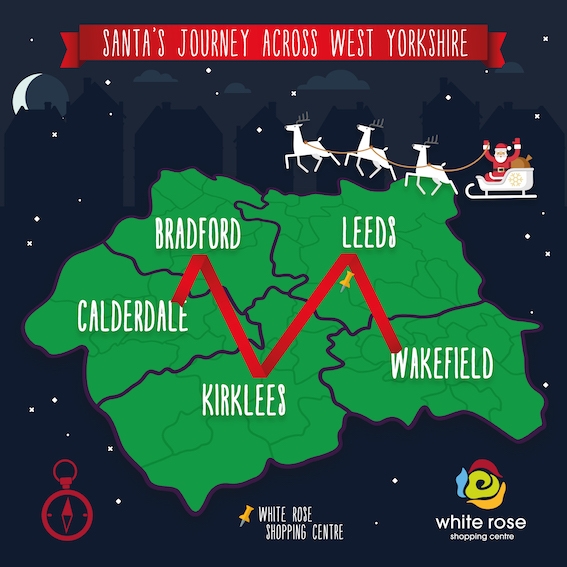 According to the figures, Santa spends just 2.4 seconds in West Yorkshire on the eve of the big day. Assuming his time is split according to the population of each district, Santa spends just milliseconds in each location:
Leeds: 810.24 milliseconds
Wakefield: 351.12 milliseconds
Kirklees: 455.76 milliseconds
Calderdale: 219.6 milliseconds
Bradford: 563.28 milliseconds
If the generous folk of West Yorkshire leave Santa one mince pie per household, the man himself will consume around 967,891 in those brief seconds – a calorie intake of around 241,972,750 (allowing around 250 calories per mince pie).
Steven Foster, General Manager of White Rose Shopping Centre, said:
"We've always gone above and beyond to help our customers enjoy a fun and hassle-free festive season, and we're delighted to be perfectly positioned to help Santa put smiles on the faces of children across West Yorkshire too.
"We'd like to invite Santa to pop in after-hours to pick up some toys and goodies from our wonderful selection of stores – with this much choice, we're sure he won't struggle to check everything off his list. There's plenty of free parking spaces for his sleigh, too."
Stephen Carver of the School of Geography at the University of Leeds, who completed the geographical research, said:

"After looking into the geographical polygon centroid of West Yorkshire, it seems that White Rose's location would be a perfect base for the man in the red suit to stop and re-stock his sleigh. As his reindeer travel around 510,000,000km around the world on Christmas Eve, I'm sure they'll be grateful for the brief chance to rest their hooves.
Following the research, White Rose has illustrated a suggested route to help Santa on his way – travelling through West Yorkshire east to west, to make the most of the night time available to him. The map can be viewed on White Rose's website and social channels.
White Rose is also working with Heart Yorkshire to act as Santa's helpers this Christmas. Until Sunday 18 December, the centre is hosting a Giving Tree and encouraging shoppers to buy an extra gift for a deserving child while doing their Christmas shopping – the gifts will benefit local charities Kids Klub and Yorkshire Children's Trust.
Additionally, White Rose is offering extended opening hours in the run up to Christmas, to make the festive shopping that bit easier. Stores are open up to 10pm Monday to Friday. Visit www.white-rose.co.uk for full details.