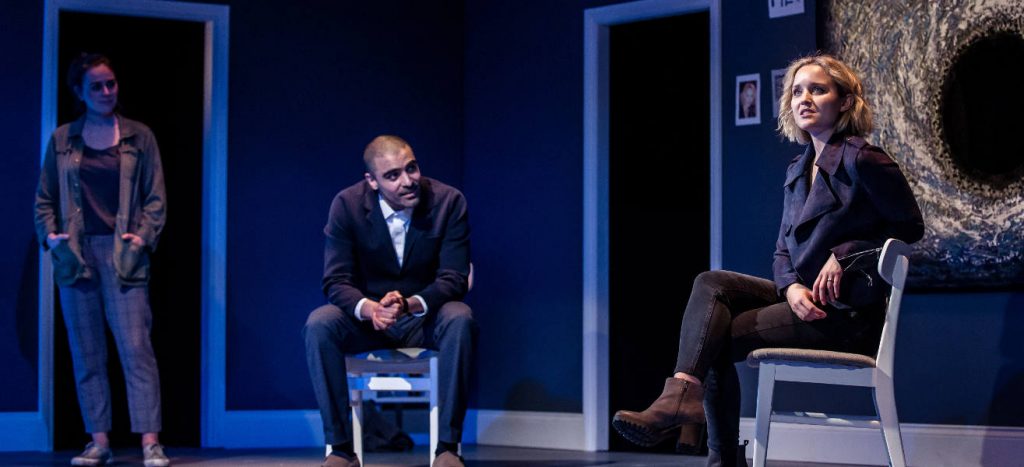 Having read the book last summer, and being slightly disappointed at the film's representation of a brilliant novel, I was interested to see what the play would offer. And I'm happy to say, it did not disappoint. From start to finish I was captivated, and every role was played in a way that created real depth and prompted sincere empathy from the audience.
Moving on to the set, again it was clear a lot of creative thought had gone on behind the scenes. The play begins with the sound of a train as you're thrown into Rachel's world. For every scene change the lighting flashes and it's as if a train is passing while you can see shadows of new characters emerging for the next scene.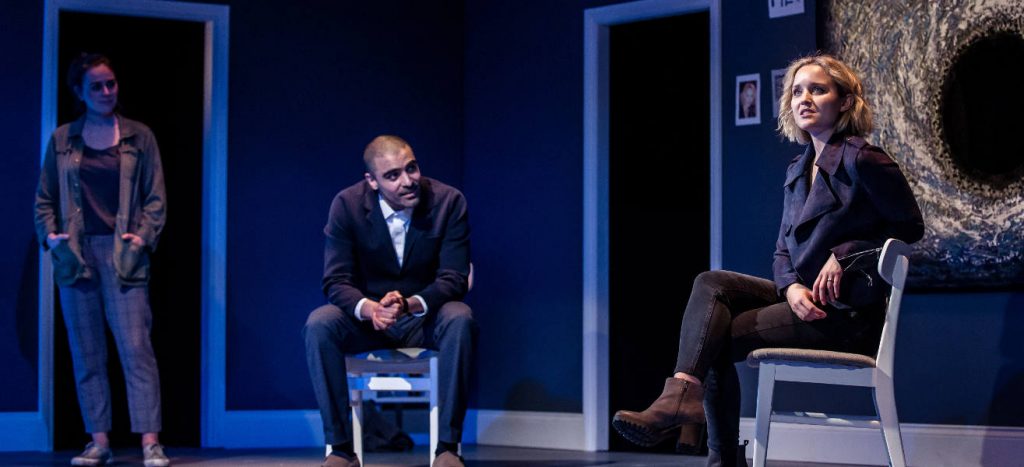 For those who don't know the story, the plot is written around the disappearance of a young artist named Megan. And right from the start Megan is right at the centre of the play, visually represented in a piece of her artwork; a swirl of blues and greys around a black "hole" right in the centre of the stage.
The play is haunted by empty spaces, from Rachel's emptiness of not having a child, and Megan's disappearance. The premise of the story is alcoholic, Rachel's involvement in finding Megan through an obsession with creating a story of a girl (Megan) she's watched from a train. But her drinking leaves her with "black spots" in her memory, again represented in Megan's art, so their lives are visually intertwined.
Despite the dark plotline, the script somehow contains some moments of comedy, managing to make a serious plot line also humerous.
The play leaves you with a powerful and emotive monologue from Jill Halfpenny, who plays Rachel. My favourite line of the play is a line from character Kamal Abdich; "Monsters don't exist", which beautifully captures the heart of the play, which at its core is a play about humanity. About what we do and why. Underneath the sinister plotline, there is a softness and understanding of the complexity of people's lives which is summarised in Rachel's final monologue which is in essence a tribute to commuters not dissimilar to that you'd find on any number of trains leaving Leeds station every weekday morning.
For anyone who is already a fan of either book or film, the play subtly honours both, bringing all three mediums together in one of the final scenes; I won't say too much but it involves a corkscrew, the film score, and a new ending.
There were many moments when the audience were silently watching and clearly captivated by both the acting and set. To anyone who has and hasn't heard of "The Girl on The Train", if you have a free evening between now and 9 June book yourself tickets and I promise you won't be disappointed.
The Girl On The Train is at West Yorkshire Playhouse until Saturday 9 June 2018. Tickets cost £13.50 – £38.00, Box Office: (0113) 213 7700. Full information at: www.wyp.org.uk/events/the-girl-on-the-train
This post was written by Hannah Lewis. South Leeds goes to The Playhouse offers free tickets for readers to attend shows at West Yorkshire Playhouse in return for reviewing the play.