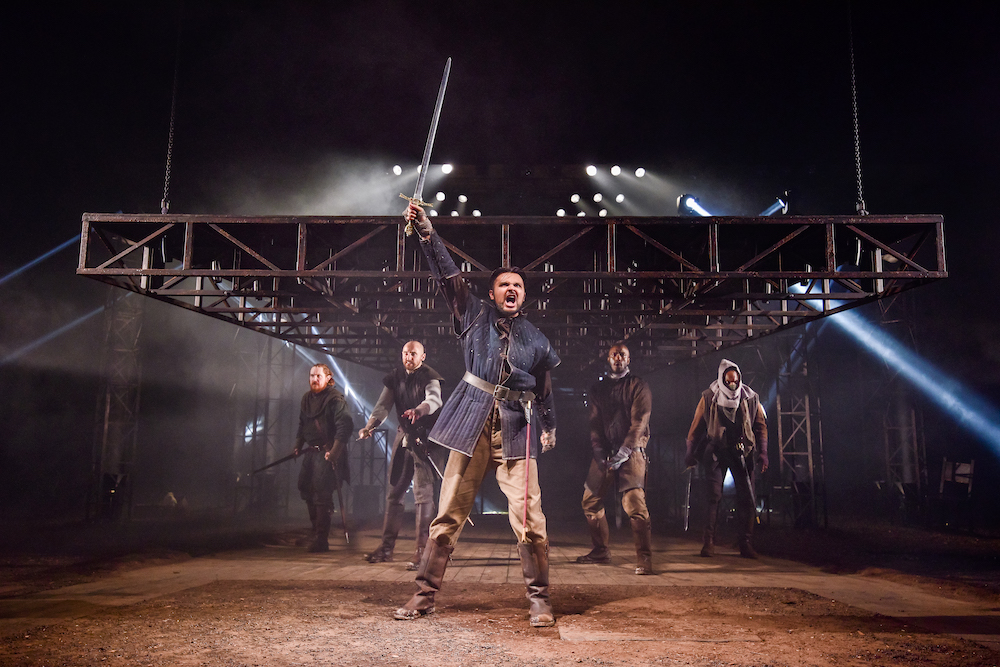 The scene is set for this telling of William Shakespeare's 'Scottish play' by the Weird Sisters meeting on the wild heath in the mist. A place of mystery, a place that plays tricks on your mind and a place for supernatural forces.
Soon we are thrown into battle – the 'hurly burly' of which they spoke. It's loud and chaotic and by the end we find that Macbeth has fought bravely to defend Duncan's kingdom. But once he's met the Weird Sisters and been bewitched by their prophecy, nothing is the same again for him.
The stage set is suitably impressive, both for the scale of the play and the scale of the Quarry Theatre. The steel columns reminded me by turns, of stone columns and trees. They also held lights which were used to great effect. The sound and lighting were very effective, particularly during battle scenes and to highlight the supernatural / mental health aspects of the drama. The murder, off stage, of Macduff's wife and child is truly chilling.
Actors use their own accents rather than the stuffy received pronunciation of days gone by. This worked particularly well for several key roles including Macbeth and Lady Macbeth who were played by northern actors. Shakespearian English is easier understand in a northern accent as the Northern Broadsides company has demonstrated for many years, I think it's all the 'thee's and 'thou's.
The production set out to be inclusive and accessible. Adam Bassett, a deaf actor, played Macduff as a force of nature, wringing every emotion out of his personal tragedy. His comrade Lennox cleverly acts as interpreter, both for MacDuff and the audience.
The text had also been altered to include descriptions of the action so that every performance became an Audio Described Performance. This was so seamless that I didn't notice it despite have seen the play many times before.
This wasn't a production for the purists, but it was very accessible, which will be particularly helpful to audiences new to Shakespeare.
The genius of Shakespeare is that they are timeless stories about the human condition. Every production has echoes in events of the day. Macbeth is a play about overweening ambition leading to madness, killings and death and I so couldn't help but be reminded of events unfolding in Ukraine.
This is a terrific production that brought me new insights to a familiar play. The cast are strong as individuals and as an ensemble and did I mention the costumes? They're great too. Do go and see it if you get the chance.
Macbeth is at Leeds Playhouse until Saturday 19 March 2022. Tickets cost £14-32, book online at leedsplayhouse.org.uk/events/macbeth or call the box office on (0113) 213 7700.
Photo: Shahbaaz Khan (Malcolm) and the company of Macbeth at Leeds Playhouse. Photograph by Kirsten McTernan.