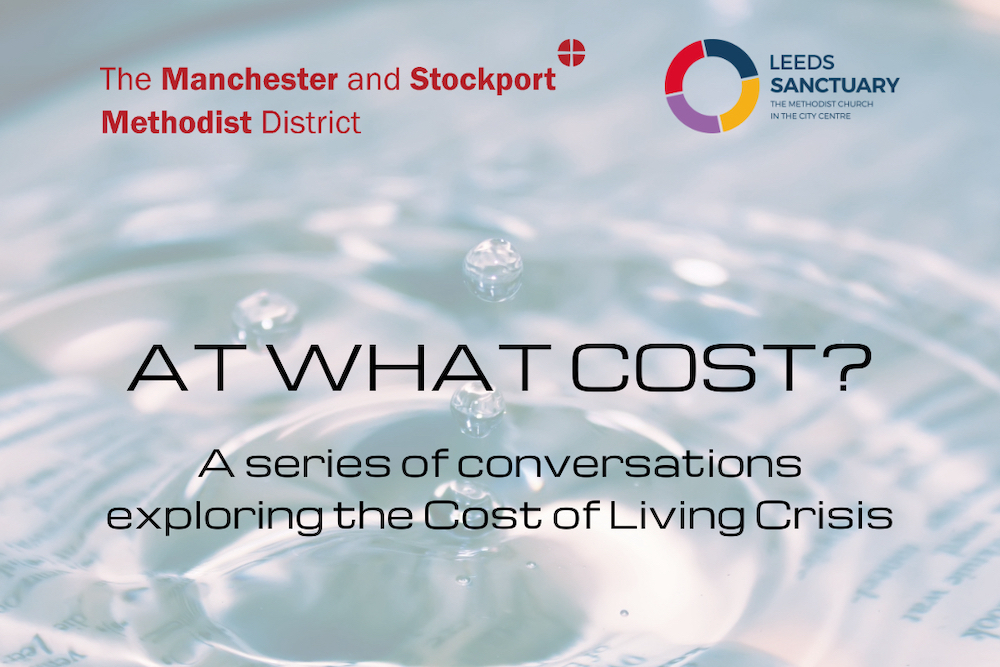 Beeston-based Leeds Sanctuary and the Manchester and Stockport Methodist District are proud to announce the launch of their new podcast series 'At What Cost', which focuses on the Cost of Living Crisis and its impact on local individuals and organisations in Leeds and Manchester, and beyond.
Through candid conversations with a range of guests, 'At What Cost' aims to delve deeper into the pervasive Cost of Living Crisis and the lasting impact it has on individuals and organisations. By shining a light on these issues and exploring them from different perspectives, we hope to raise continued awareness, foster a greater understanding, and demonstrate the Methodist Church's relevance and commitment to making a positive difference in the world.
"We are honoured to launch this new podcast series and engage with the community about the Cost of Living Crisis," says Tori Allen, Manchester and Stockport Methodist's co-host of the Series.
"Hearing about the real, human toll that the crisis is having throughout our conversations has been a deeply moving experience and has reinforced the importance of highlighting these accounts and advocating for change."
Emily Smith, co-host from Leeds Sanctuary, added:
"We knew more people were facing new or additional challenges, but hearing these accounts of the ways real people are struggling, and how much shame they feel about circumstances totally out of their control, was heart-breaking. It's heartening to hear from organisations who are making a real difference in these people's lives, and we've been inspired to pass that encouragement along."
The Series features six conversations which will be released fortnightly on the Leeds Sanctuary website and through Soundcloud, Apple Music and Spotify. The first in the series is available from today (Thursday 18 May 2023).
The six conversations are on the topics of Theology, Community Cafes, Debt and Budgeting, Food Banks, Chronic Illness and Disability, and Homelessness. Guests include Rev Ian Rutherford of Central Hall Manchester; Anna Bland, Team Leader of Leeds Sanctuary; Rachael Bate of Stretford and Urmston Methodist Churches; Sam Price, a debt advisor with Christians Against Poverty, based in Leeds; Emma Greenough, Fundraising Manager for The Welcome Centre in Huddersfield; Laura Neale of YouBelong, an online Christian community; and Jacob Quagliozzi, Director for England of Housing Justice. Inspired by the stories we've heard, and the work of our guests and their organisations, we will also be suggesting actions that listeners can take in order to push for change at local and national level.
You can access the first "At What Cost" podcast here: www.leedssanctuary.org.uk/2023/05/18/at-what-cost-a-theological-perspective . You can also find us on Facebook, Instagram, and Twitter at @leedssanctuary and @mandsmethodists.
We encourage anyone living or working in South Leeds to use this website to tell their news. You can either use the Create an article for South Leeds Life page, or email us at: info@southleedslife.com
While you're here, can we ask a favour?
South Leeds Life is published by a not-for-profit social enterprise. We keep our costs as low as possible but we've been hit by increases in the print costs for our monthly newspaper – up 83% in the last 12 months.
Could you help support local community news by making a one off donation, or even better taking out a supporters subscription?
Donate here, or sign up for a subscription at bit.ly/SLLsubscribe