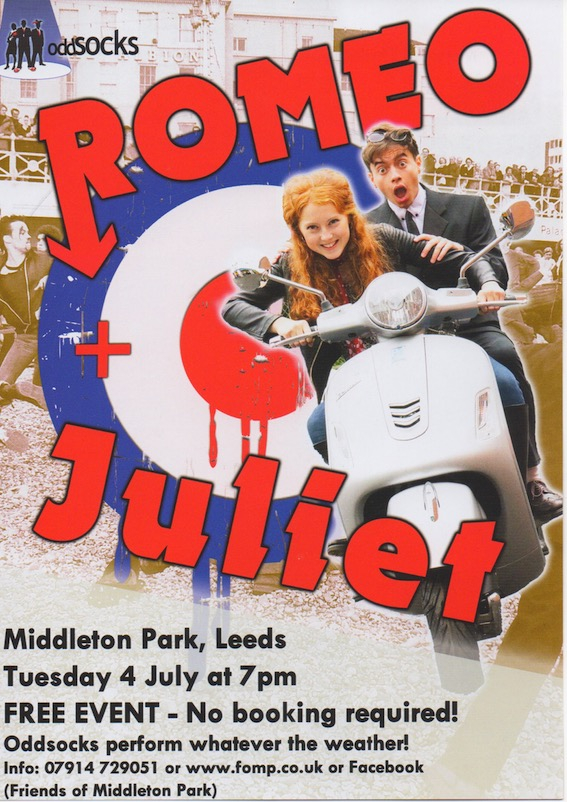 Oddsocks Theatre return to Middleton Park on Tuesday evening (4 July 2017) for another night of family fun, breathing new life into Shakespeare's Romeo & Juliet by giving it a musical Mods & Rockers twist!
There's Nowhere to Run To for the Capulets and Montagues as violent confrontation stalks every meeting, even Down in the Tube Station at Midnight. Meanwhile, Juliet's nurse is looking forward to a good old Twist and Shout at the Capulet party, which Romeo's mates are planning to gatecrash. Romeo has doubts about going to the Capulet Nite Klub but that is where he meets his Juliet, and It Must Be Love. Maybe, just maybe, The Power of Love will end the families' violent feud.
Tybalt has other ideas, and when The Boys Are Back In Town, Romeo gets into a fatal fight that sees two dead and Romeo banished. Juliet is distraught, her father reassures her that Everybody Hurts and he will cheer her up by marrying her to the County Paris. Juliet, desperate to avoid this unwanted wedding, takes the Friar's sleeping potion and is buried in the family tomb. Romeo, hearing of his lover's "death" goes to her. In a final act of coincidence and confusion our star-crossed lovers Don't Fear The Reaper and their parents are left thinking If I Could Turn Back Time.
As usual the play will be staged outside on the bandstand by the visitor centre. Alan Shaw from Friends of Middleton Park (FOMP) who are staging the free event said:
"We are looking forward to welcoming you to the park again for another memorable night with Oddsocks. It all starts at 7pm but please get here in plenty of time, maybe come with a picnic. Also don't forget your chairs or blankets as we don't have many spare … and maybe an umbrella. The Visitor Centre will be open for hot and cold drinks, cold sandwiches, cakes and lots, lots more. Both FOMP and Tracy (the cafe operator) will be serving drinks. Toilets also available!"
The number 13 bus stops by the park entrance. Car parking is available near the bowling green, at the cycling hub and at John Charles Centre for Sport. If parking on local streets please show consideration for residents.