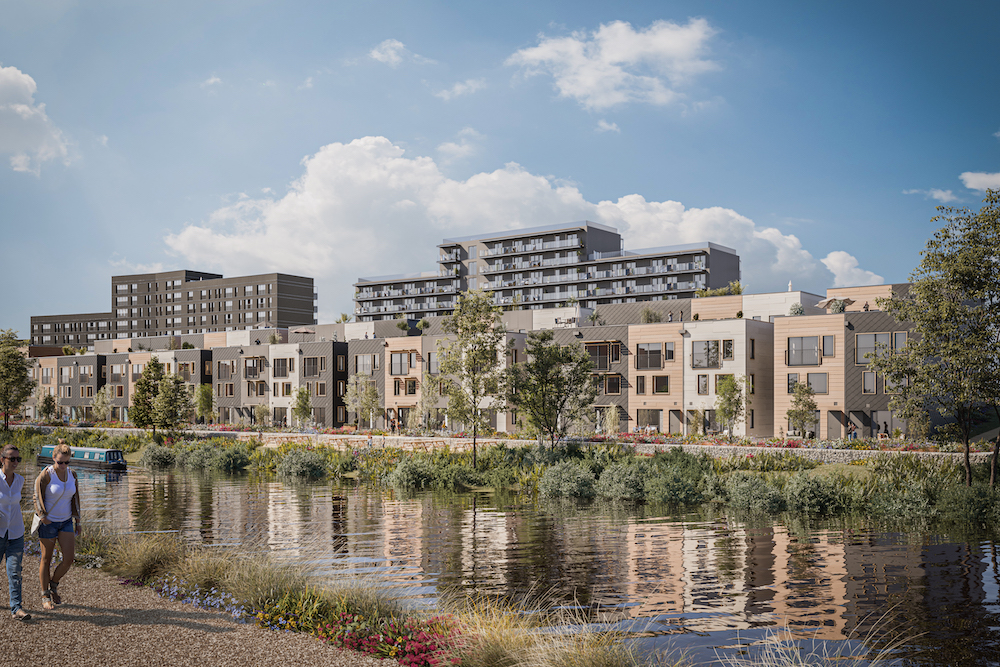 With energy efficiency a concern for everyone in the property market, leading sustainable developer Citu's release of new houses at the acclaimed Climate Innovation District by the River Aire in Hunslet has come at the right time.
A new collection of 4-bed townhouses at the low-carbon development on the banks of the River Aire has been released. Two new designs – River View Houses and Roof Top Garden Houses – offer a choice of waterfront position with private decking, or rooftop garden with panoramic views; traditional or 'upside down' living. In common with all homes at the Climate Innovation District which has been conceived significantly to reduce carbon emissions, energy efficiency is central to the design and manufacture of these new properties.
The houses mark the introduction of the second Citu Home system, the company's most energy and carbon efficient technology to date which reduces energy consumption to a fifth of that of an average home. Produced on-site, a process that customers are encouraged by Citu to explore and understand, by meeting the design team and visiting the factory, the timber-framed River View Houses and Roof Top Garden Houses feature as standard air-tight membranes, triple-glazed windows, mechanical ventilation heat recovery systems, air source heat pumps, high-speed full fibre broadband and smart technology.
Renewable energy is produced on site at the Climate Innovation District and the landscape is designed to encourage nature to flourish and residents to choose walking over driving. Acknowledging that cars in England spend just 4% of their time in motion, cars are tucked away in an under croft and the infrastructure is in place ready for widespread use of electric vehicles.
Citu reintroduced the first new houses to be built in Leeds city centre in nearly one hundred years, when the Climate Innovation District was launched in 2018. The need for housing has proved popular with downsizers, keen to move from the suburbs closer to the city centre while retaining a spacious home; with families and couples planning for a family in the future.
This new release of houses represents an evolution of the Citu Home, designed by the in-house team, in response to customers' changing needs and demand for flexibility. Both house types feature open plan stairwells, 180-degree doors, balustrades, porcelain tiles on the roof decking, light timber floor finishes, white kitchens with Corian worktops and kitchen islands. The popular triple-height lightwells also remain a feature of the River View Houses.
Jonathan Wilson, managing director at Citu, who owns a home, lives and works at the Climate Innovation District, said:
"These new houses play a crucial role in the creation of the Climate Innovation District and will mark the completion of the frontage along the River Aire and phase one of the wider 22- acre development. They're the only waterfront houses you can buy in Leeds and there's loads of research that shows the benefits to mental health and wellbeing of living by water. The River Aire is a source not only of inspiration for our designers and relaxation for our residents, but it's teeming with wildlife and its banks are well-loved by runners, walkers and even commuters.

"I'm excited to release a new collection of houses, at the same time we're completing the new Aire Lofts apartments. And we're looking forward to welcoming many more people, whether they are already climate conscious or new to the world of sustainability, to our new place that's both in the heart of the city and yet can feel a million miles away."
This launch offers future homeowners the opportunity to be part of a growing and leading community in Leeds. Once complete, the Climate Innovation District will feature 955 low carbon homes underpinned by climate conscious leisure, offices and a state-of-the-art manufacturing facility where the buildings are made. A basketball court already is in place with a football pitch to follow. Planning permission has been granted for the UK's first multigenerational building that will include a primary school, care home and apartments in one space, with completion anticipated in 2025.
River View Houses and Roof Top Garden Houses are available from £480,000 and a new show home is now open. Ready to move into from June 2023.
This post is based on a press release issued by Citu
Whilst you're here, can we ask a favour?
South Leeds Life is published by a not-for-profit social enterprise. We keep our costs as low as possible but we've been hit by increases in the print costs for our monthly newspaper – up 83% in the last 12 months.
Could you help support local community news by making a one off donation, or even better taking out a supporters subscription?
Donate here, or sign up for a subscription at bit.ly/SLLsubscribe