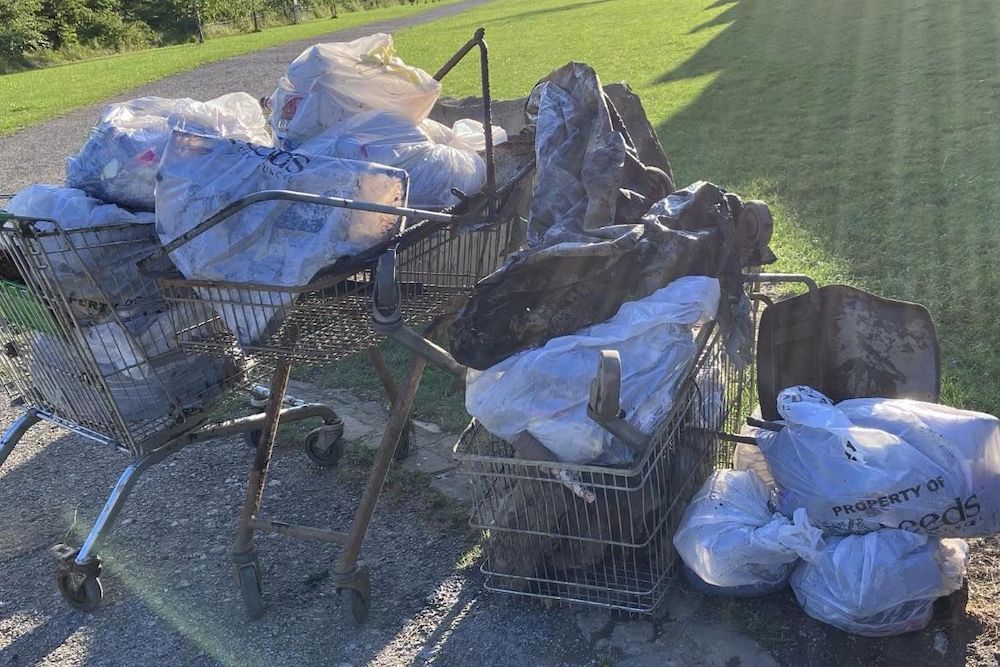 On Monday (17 July 2023) members of the newly formed Friends of New Forest Plantation convened to give the waterway areas around the Plantation a quick tidy up with the primary aim of removing a substantial number of abandoned shopping trolleys. Key target areas were Throstle Carr Beck and the retention ponds.
Armed with grappling hooks and waders, along with the obligatory safety equipment and sheer brut strength members of the local amateur magnet fisher team (John, Joe and Lee) were enlisted to help with the removal of the metal debris. Hopefully, there will be more engagement with this kind-hearted group of locals in the future to clear even more problem areas.
A veritable army of volunteers, consisting of 9 adults and 5 children spent an hour and a half around the waterways and managed to remove 3 trolleys, 4 chairs, several duvets, random items of clothing and a treasure trove of other litter filling about a dozen large litter bags.
Thank you to Cllr Wayne Dixon (SDP, Middleton Park) for providing some of the necessary equipment to the local team, which will be utilised well over the coming months.
Please do follow the Friends of New Forest Plantation Facebook page for further information on what they have planned.
This post was written by Hazel Smith

We encourage anyone living or working in South Leeds to use this website to tell their news. You can either use the Create an article for South Leeds Life page, or email us at: info@southleedslife.com
While you're here, can we ask a favour?
South Leeds Life is published by a not-for-profit social enterprise. We keep our costs as low as possible but we've been hit by increases in the print costs for our monthly newspaper – up 83% in the last 12 months.
Could you help support local community news by making a one off donation, or even better taking out a supporters subscription?
Donate here, or sign up for a subscription at bit.ly/SLLsubscribe