St Mary's Parochial Hall in Middleton held their monthly coffee morning on Thursday (25 July 2019). These coffee mornings are usually held on the third Thursday of the month, and it's safe to say this was the hottest one yet! Regardless of the heat there was a fantastic turnout of both church goers and non-church goers, who came to enjoy the selection of cakes, bacon and sausage sandwiches, hot drinks and a turn on the raffle.
The purpose of these coffee mornings is clear – to bring the community together. It allows people to go somewhere and socialise with others for a couple of hours, which can make a huge difference in people's lives. The friendly, welcoming atmosphere is clear as soon as you walk through the doors, and as said by a member of the Church Committee, Sandra Askin
"We've always got a friendly smile for everybody".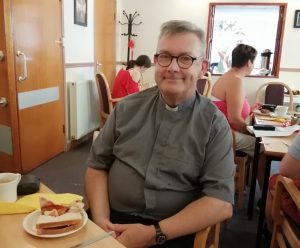 The sessions are run completely by volunteers. The local Vicar, Andy Myers (pictured enjoying his bacon sandwich), stated:
"All the volunteers work really hard; we really couldn't function without our volunteers."
These volunteers do indeed work tirelessly to bake treats to be sold, find raffle prizes to be won, and of course they ensure the morning runs smoothly when it comes around. There is a clear sense of togetherness which is wonderful to see.
The St Mary's Parochial Hall, at the top of North Lingwell Road, was built in 1935 and it belongs to the St Mary's Church, also in Middleton. It is the Church's social club, and it is a key part of the community. The coffee mornings are just one of the many things that the committee members and volunteers at the hall do to bring members of the community together.
So why not go along to their next coffee morning in August? It is certain to be another great morning which will be enjoyed by members of the community.