Introduction
Middleton Elderly Aid is a charitable organisation and  one of Leeds City Council's Neighbourhood Network schemes.
We aim to promote independence amongst the over 60s population in the Middleton and surrounding area through a range of activities and services. We are part of the community, working for the community, promoting security and safety in the home and tackling social isolation in our area. We are Age Friendly Ambassadors and a Dementia Friendly organisation.
Lunch Clubs
We run four lunch clubs – Monday, Tuesday, Thursday and Friday 9:30am–1pm.
We play bingo & hoy at our lunch clubs at 11am and serve lunch at 12pm.
Our lunch clubs are subsidised with grants from Leeds Community Foundation which means we can keep the cost to a minimum for our members.  A two course lunch costs only £4. Please book in advance. We also have a meal delivery service for our members who  cannot attend our centre. For more information please call on (0113) 272 1050.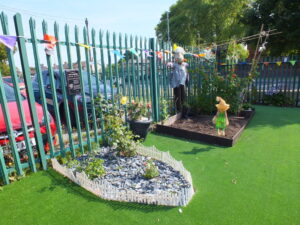 Gardening Group
Our Gardening Group has been running for over 3 years now. The difference our Gardening Group has made to our own garden is amazing. We also grow flowers to sell on to our members. If you would like to join this activity you are more than welcome to come and potter about in our garden and poly tunnel any time and day of the week.
More information
We have a drop-in legal clinic, a bereavement support group, hearing aid clinic, beauty sessions, hairdresser and information stands. Please contact us for dates on (0113) 272 1050.
We have a wonderful team of Telephone Befrienders. Maureen, Brenda and Jane can call you weekly for a catch up if you like.
We sell sandwiches daily for the members to take home for their tea after they have had their two course meal at lunch time at a cost of just £1 each.
We book annual holidays every year in May and December. We tend to  go away Monday to Friday. Please look in our newsletter for details.
We are here to support people to live independent fulfilling lives by organising activities and classes to bring people together. We also offer one to one support and advice and visit people in their homes.
Become a member.
The membership is FREE, just fill in the referral form or call into our Social Centre for a cuppa. You can contact us a on (0113) 272 1050.
Being a member will give you all the above benefits plus much more. You will also receive our quarterly newsletter. All members will receive a birthday card and the ones who live in Middleton will receive a free lunch voucher.
Volunteer with us.
We have a small staff team and a large volunteer team, without whom we could not operate without.
While you're here, can we ask a favour?
South Leeds Life is published by a not-for-profit social enterprise. We keep our costs as low as possible but we've been hit by increases in the print costs for our monthly newspaper – up 83% in the last 12 months.
Could you help support local community news by making a one off donation, or even better taking out a supporters subscription?
Donate here, or sign up for a subscription at bit.ly/SLLsubscribe