Middleton Elderly Aid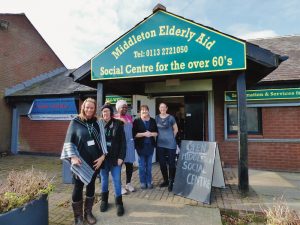 We are looking for some volunteers to dig up part of our garden to plant some flowers to do a feature point for our members to admire.
We are aiming to do it at our gardening group on Saturday (29 June 2019) morning at 10am.  If there is any strong people out there with a few hours spare please come and join us we will throw in a cuppa and biscuits. Some tools will be provided, but if you can bring your own, all the better.
We have a raffle to raise funds for our charity. We have 31 prizes . The raffle is £1.00 for a strip of raffle tickets. They are on sale in our centre and will be on sale at our summer Fayre on Saturday 13 July when it will be drawn. Please come and buy some and support us. Thank you. If you can donate any prizes, please let Samantha know.