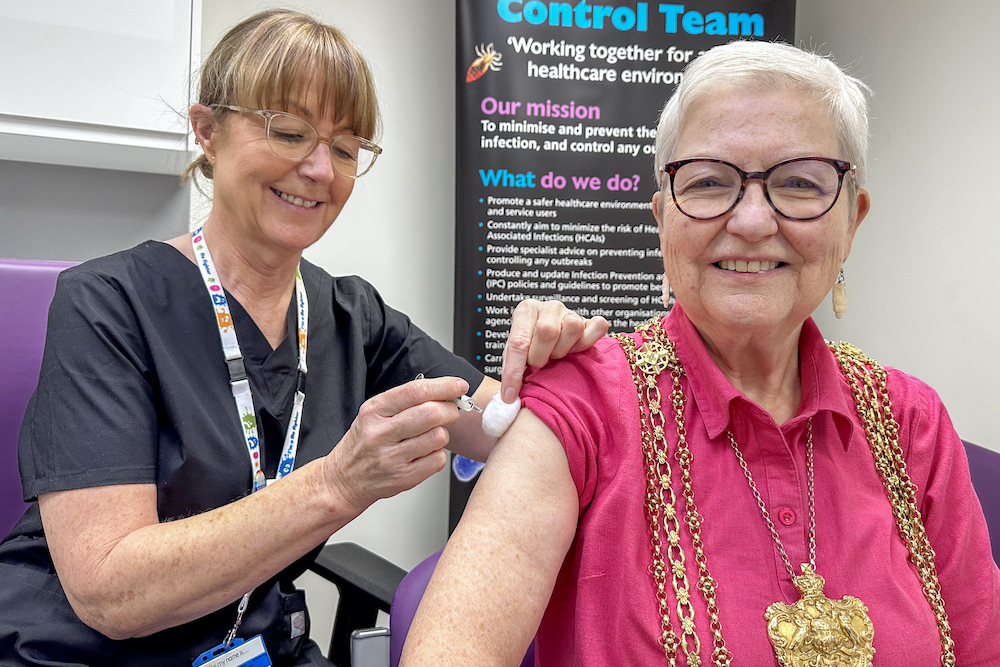 The Lord Mayor of Leeds has urged residents to check if they are eligible for the free flu or covid-19 vaccine this winter.
Ahead of the winter month, the Lord Mayor of Leeds, Councillor Al Garthwaite visited Seacroft Community Clinic to receive her free covid-19 and flu vaccinations.
The Lord Mayor was joined by members of staff from Leeds Community Health Care Trust at the clinic, who were also receiving their winter vaccinations, where she thanked them for their hard work and discussed the importance of getting vaccinated this winter.
In winter flu and covid-19 spread more easily as people spend more times indoors. Getting both vaccines ahead of winter are two of the most important things you can do, to get winter strong and protect yourself and those around you.
For more information on eligibility and where you can receive the free flu or covid-19 vaccine this year, please visit nhs.uk/wintervaccinations.
Speaking after receiving both vaccines, the Lord Mayor of Leeds, CouncillorAl Garthwaite, said:
"I would like to thank the NHS for providing me with my free covid-19 and flu jabs ahead of the winter, and I would urge anyone across Leeds who is eligible to do the same.

"It is so important that as a city we come together this winter and collectively make sure we are all winter strong. If you are eligible getting vaccinated is an important part of that."
Commenting on the importance of the vaccines, Leeds City Council'sdirector of public health, Victoria Eaton said:
"For most healthy people, flu and covid-19 symptoms can make you feel exhausted and unwell, and you have to stay at home and rest until you get better. However, for people with underlying health conditions, people with learning disabilities, pregnant women or the elderly, the virus can be very serious.

"The vaccine is offered to those most at risk of serious illness because we know that they need it to stay well during the flu season. This year with Covid-19 still circulating, it is more important than ever that people take up the offer of both vaccines to protect them from infection of the flu or Covid virus; it will also help to reduce pressure on the NHS and social care staff who may be dealing with Covid-19 and flu."
Dr Sarah Forbes, GP and Medical Director of the Leeds office of the NHS West Yorkshire Integrated Care Board, said:
"Flu and Covid-19 vaccinations are being offered to those at greater risk of serious illness this winter.

"If you are eligible and have been offered a vaccine, we encourage you to book in soon as possible. Vaccines are the best way to protect yourself from serious illness and will also help to reduce pressure on the healthcare system."
This post is based on a press release issued by Leeds City Council
While you're here, can we ask a favour?
South Leeds Life is published by a not-for-profit social enterprise. We keep our costs as low as possible but we've been hit by increases in the print costs for our monthly newspaper – up 83% in the last 12 months.
Could you help support local community news by making a one off donation, or even better taking out a supporters subscription?
Donate here, or sign up for a subscription at bit.ly/SLLsubscribe