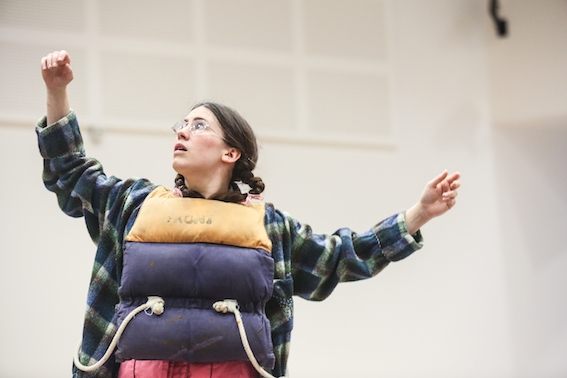 Lifeboat tells the true story of two girls, Beth Cummings and Bess Walder, who survived the torpedoing of the ship that was evacuating them to Canada in 1940.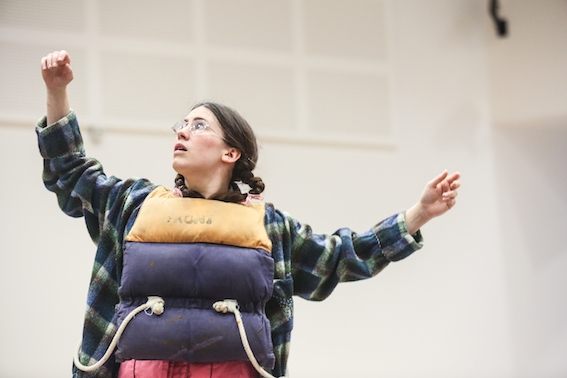 With a minimal set and just two actors, the play relies on the actors' skills and Lois Mackie and Amy McGregor certainly deliver. They tell the girls' stories of life before the war, of how they came to be on the ship and their 19 hour survival in the sea through physical theatre as well as beautifully scripted lines.
The play explores the girls' contrasting backgrounds and personalities. Bess is from London and is desperate to get to America and Hollywood, whilst Liverpudlian Beth is a home-bird who would rather stay with her widowed mother.
A lot of emotions are explored in Lifeboat, especially fear and survival, but also separation and survivor guilt. It's worth having some hankies about you, but ultimately the play is about survival and is life affirming.
Lifeboat was written for children and is accessible for anyone over 8 years old and carpets are provided for those who prefer the floor to a chair. Certainly the group from West Yorkshire Youth Theatre who watched it when I did were entranced. But the play is not just a children's play – it has something to say to audience members of all ages.
The show will be performed at The South Leeds Academy on Monday 15 May with two shows at 1pm and 6pm; then at Middleton Parochial Hall on Saturday 20 May at 7pm. Tickets are just £3 from the West Yorkshire Playhouse or on the door.
"I love performing in community venues." Director Gill Robertson told South Leeds Life. "I'm conscious that many people think theatres are elitist. We have redesigned the show especially for small venues, the audience is very close to the action."
West Yorkshire Playhouse Creative Engagement Director Alex Ferris said: "We are thrilled to be able to bring this moving and inspiring production to the Playhouse and to our Community Partner Areas in the city. Alongside our participatory work happening in those areas throughout the year, the tour represents another way that people can enjoy and be inspired by having a leading producing theatre based in the heart of the city."
Lifeboat runs at West Yorkshire Playhouse from 2-13 May before touring venues around Leeds.