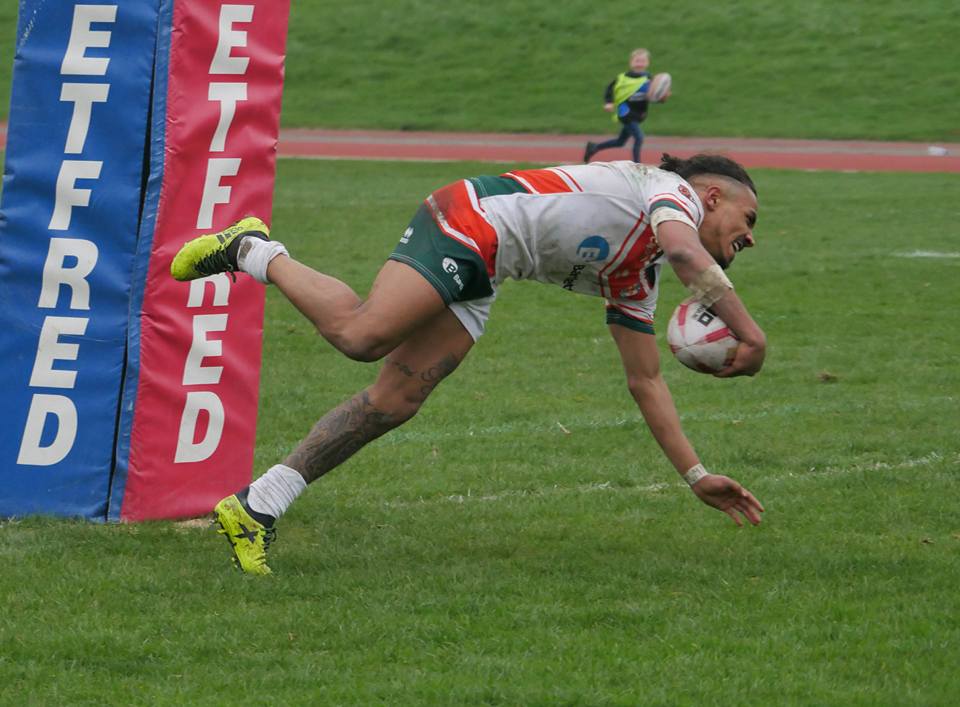 Hunslet RLFC 27-20 Workington Town
Hunslet RLFC overcame a 20 points to 8 deficit to come back and win in one of the best games seen at the South Leeds Stadium for many a year.
After coming from behind to win at Oldham last week it looks like a winning mentality and 'never say die' attitude is starting to steadily grow in this group of players.
Photos by Paul Johnson / Phoenix Photography
Although Hunslet started out brightly it was Workington who registered the first points when on 5 minutes Doran dummied his way over after former Leeds Rhinos man Ryan Bailey had been held up over the line. 0-6 to Workington.
The game then became a wrestling match as each teams forwards tried to get the upper hand. It wasn't until 20 minutes that Hunslet posted their first score when Workington misfielded a kick and Cain Southernwood sent Michael Haley over for a try. 6-6.
A Joe Sanderson penalty gave Hunslet the edge on 30 minutes at 8-6, and it seemed the home team were finishing the half stronger. The lead would have been extended but for a brilliant last ditch tackle on Hunslet's Jack Walton as he headed to the line.
As it happened, Workington had the last hurrah as on the last tackle of the half Jamie Noone broke through the Hunslet ranks to send Paul Forber in under the posts.
Half Time: Hunslet RLFC 8-12  Workington Town
A scrappy start to the second period saw Workington extend their lead when Dawson touched down after an attempted grubber kick had ping ponged off various defenders legs, the try converted, 2 more points were added soon after when Hunslet were penalised for a shoulder nudge 8-20.
By now the officials were coming into some stick from the home faithful as Hunslet did not seem to be getting the rub of the green. But slowly Hunslet's play became more expansive and Workington looked to be tiring, happy to try defend their lead.
On 65 minutes Joe Sanderson slipped an inside ball to Tom Ashton who zigzagged his way across the Cumbrian's defence before cutting inside using great strength to score. With Sanderson's conversion the score moved on to 14-20.
It now felt like the momentum was Hunslet's, and with Cain Southernwood now probing the Workington line, it was on-loan forward Jack Blagbrough who was next to go over for the home side. A cool head on Joe Sanderson levelled things up at 20-20 with 5 minutes to play.
Reed and Straugheir had taken Hunslet forward all day, but the real thorn in Workington's side was Man of the Match Niall Walker, who from the left wing had cut Workington's defence to pieces, impressing again after last week's brace of tries.
Now, Hunslet came for a winner. They drove towards the posts and with calm heads made space for Cain Southernwood to bag a Drop Goal and a one point lead 21-20.
Desperate now, Workington tried the short kick off and regained possession. Finger nails were been bitten down in the home end, but it always looked like Hunslet's defence was too strong.
Workington's last ditch effort involved a long looping pass out to the left wing, it may have come off if the ball had gone to hand, but instead Foggin–Johnston intercepted and showed he has pace to burn, scoring under the posts much to the delight of the home crowd 27-20.
An excellent game of rugby, witnessed by a small band of 561 saw Hunslet come back from a losing position to win the game. Let's hope next time they are playing in front of more supporters and don't leave it so late.
Hunslet's next two matches are against fellow promotion contenders Newcastle Thunder away and then York City Knights at home on Sunday 6 May.
Teams:
Hunslet RLFC: Jimmy Watson, David Foggin-Johnston, Mufaro Mvududu, Tom Ashton, Niall Walker, Joe Sanderson, Cain Southernwood, Jack Blagborough, Jack Lee, Lewis Reed, Josh Jordan-Roberts, Duane Straugheir, Liam Mackay. Subs: Jack Coventry, Daniel Halmshaw, Michael Haley, Jack Walton.
Workington Town RLFC: Jordan Tansey, Joseph Hambley, Scott Akehurst, Elliot Miller, John Patrick, Jamie Doran, Carl Forber, Oliver Wilkes, James Newton, Ryan Bailey, Karl Olstrom, Jacob Moore,Caine Barnes. Subs: Nicholas Gregson, Andrew Dawson, Joseph Ryan, Scott Leatherbarrow.
Referee: B Robinson    Attendance: 561
This post was written by Ian Pickles using our Create an article for South Leeds Life page.