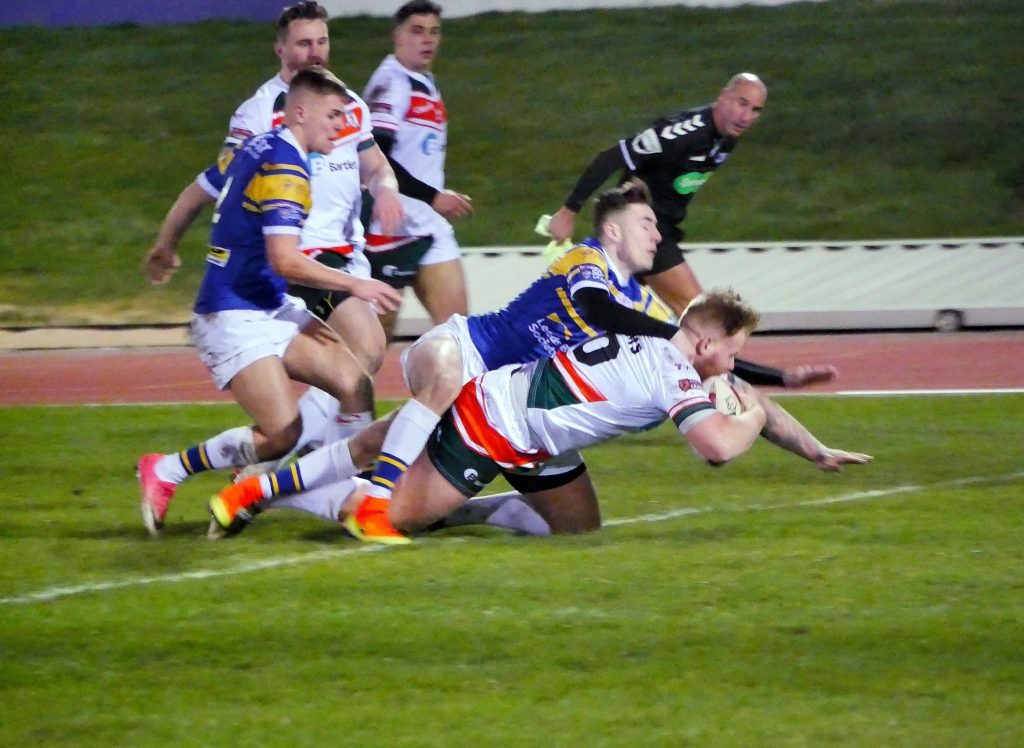 Hunslet RLFC  50-18  Leeds Rhinos
Hunslet RLFC won the the second playing of the Harry Jepson OBE Memorial Trophy at a chilly South Leeds Stadium last night (9 February 2018) against a young but determined Leeds Rhinos side.
Photos by Phoenix Photography
The early minutes were spent sizing each other up, with Leeds looking the more likely side, Josh Jordan Roberts being particularly impressive. In fact the Rhinos had a try ruled out on 15 minutes in debateable decision.
But eventually Hunslet's size started to tell, especially in the form of prop Lewis Reed, and on 20 minutes they took the lead when Jake Barnett went over after a Cain Southernwood kick had been miss fielded. Minutes later the impressive Duane Straugheir went over from a neat Ryan Mallinder ball.
The next try was bizarre as Liam Mackay intercepted a Leeds pass over their own line to touch down. Although Leeds had another try disallowed, Hunslet chalked up the next two tries. Nathan Chappell going over from a deft Harry Tyson-Wilson chip and Cain Southernwood fielding his own kick to score.
Although Southernwood had been impressive with the ball he'd not had much luck with the kicking tee, so with five tries Hunslet only led 24-0. This gave Leeds a chance to fight back and that they did with two quick tries before the break Cameron Smith going over from a neat Thomas Holroyd pass and Harry Newman sneaking over in the right corner.
Half time score: 24-10.
The fight back before half time had bucked Leeds up and they caught the home side napping straight after the break when again Cameron Smith and then Liam Whitton went over. Whitton's try impressive for its never say die passing move. Like Southernwood for Hunslet, Jordan Lilley had not brought his kicking boots and so Hunslet still lead 24-18.
At last the home side woke from their slumbers and started to play some impressive rugby. Quick passing sent Jimmy Watson over, Hunslet's own Iron man George Flanagan wrestled over from close, and then showed his handling skills to cut three men out and send Tom Ashton in the corner.
By now Hunslet's Joe Sanderson had entered the fray, who must surely be the finest goal kicker in any division of Rugby League and the conversions were going over from any area of the field with the accuracy at times of Tiger Woods in his golfing pomp.
More fine ball handling sent Brad Foster in for a try, but the best was saved until last. Dean Roberts took the ball on his own line and set off on a romp down the field, he didn't look to have the pace, but what he lacked in pace he made up for in the strength knocking off two Rhino defenders and scoring a beauty in the corner.
At 50-18 with still 15 minutes to go Leeds could be forgiven for giving in, but the young Rhino's showed some real determination and stout defence keeping Hunslet out with one or two breathtaking tackles.
Final score: 50-18.
So after a sluggish start at York and a hard fought victory against Hunslet Club Parkside things may be starting to take shape for Gary Thornton in the Hunslet coaching bunker. He may now know his starting team for the league campaign starting at Hemel Hempstead next Sunday.
This post was written by Ian Pickles using our Create an article for South Leeds Life page