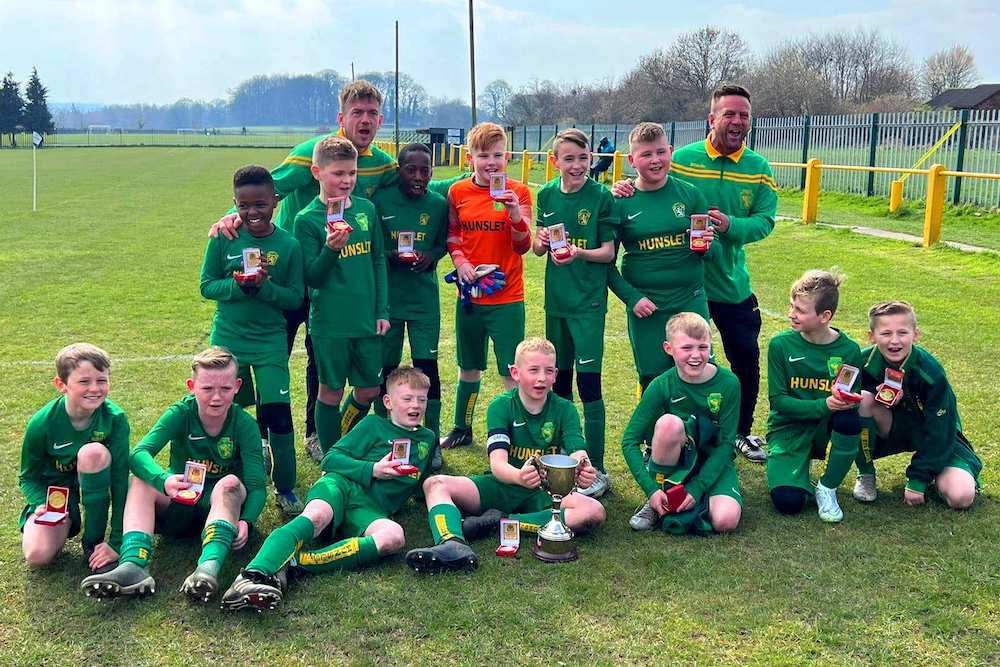 On Sunday 20 March, the Hunslet Club under 11s team lifted the Leeds and District Cup.
A fantastic performance, encouraged by the support of the crowds from the sidelines, saw them defeating Pannal Ash at Whitkirk FC. with a brilliant 6-1 win.
On the morning of the 20th, the team got on a mini bus to the venue as excitement and nerves began to set in. However, once they set foot on the pitch their sights were set on winning the Leeds and District Cup, making history for us all here at The Hunslet Club, as no other Hunslet junior football team have ever achieved this before!
Coach, Lee Maguire, had this to say:
"It was just a brilliant day from start to finish and a cracking day weather wise for a cup final. We all traveled together on the club minibus and when the boys started singing Sweet Caroline from the back of the bus, I knew it would be our day!

"It was a bit of a shock to the lads to see so many people there supporting and to be honest we started the game slowly (I'll put it down to nerves!) going 1-0 down. We needn't have worried though, as the lads showed the unbelievable ability and character they have to come back and run out 6-1 winners.

"Pannal Ash gave us a run for our money, especially in the first half before we pulled away in the second half. They were a good set of players and coaches and hopefully they still managed to enjoy their day out, as they did great to get to the final. To find out afterwards that we are the first ever Hunslet junior side to lift the Leeds and District makes the whole group massively proud. We have the best group of parents/grandparents and most importantly the best group of kids you could wish for. We all certainly enjoyed the celebrations together afterwards!"
Flying through the competition this season, the team has been developing and improving like no other junior football team has at The Hunslet Club before. The pace of their progress since their initial foundation in 2017 has been a great journey for everyone to follow and support.
Their focus shifted from simply joining a weekly sports session to playing for their team and making the club, family, friends, coaches and fellow players proud. We can't begin to explain how honored to have teams like this be a part of our club, as well as their coaches, volunteers and supporters who are with them every step of the way.
This post was written by Samantha Bailey

We encourage anyone living or working in South Leeds to use this website to tell their news. You can either use the Create an article for South Leeds Life page, or email us at: info@southleedslife.com