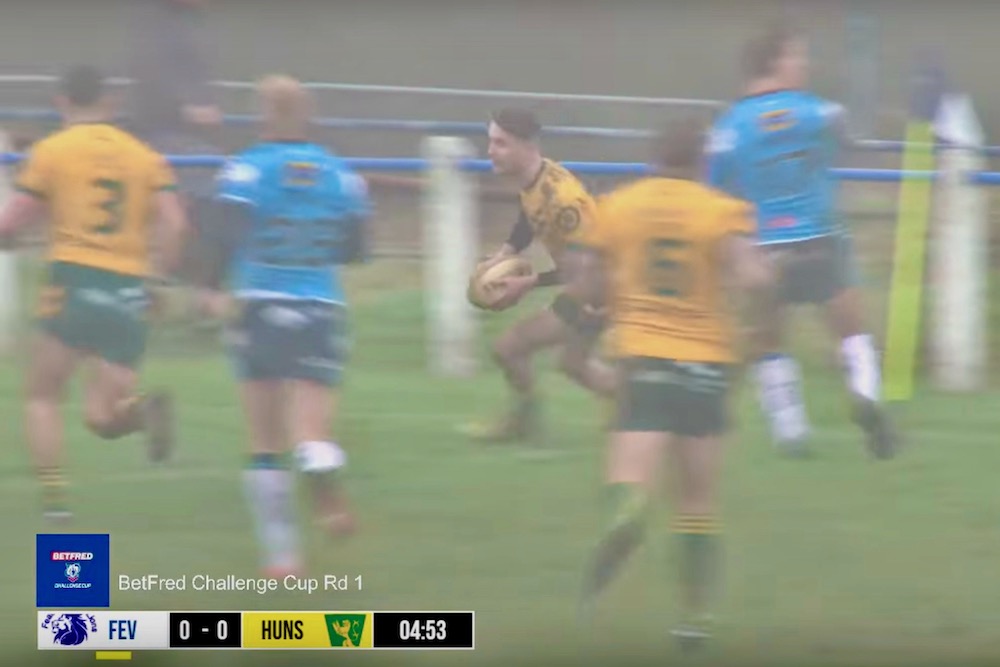 Betfred Challenge Cup 1st Round
Featherstone Lions 6-56 Hunslet Club Parkside
Saturday 15 January 2022, Millpond Stadium, Featherstone
Joining 27 other amateur clubs in Round One of the Betfred Challenge Cup this weekend, Hunslet Club Parkside became the first team from the City of Leeds to progress into Round Two with a convincing away victory over Featherstone Lions by 6–56. The Lions were ultimately steam-rollered in a second half which brought 38 unanswered points through tries from Westwood (2), McShane (2), Will Cohen (2) and Shulver with 5 conversions.
Ascendancy was established early on in the proceedings when Will Cohen crossed on 5 minutes for the first of a hat trick of scores to the right wing, which followed soon after the early sin bin of a Lions player. A sweet lobbed pass from off half Andy Hullock created the overlap for centre Dearden, who then released right wing Will Cohen to score, Jamie Fields converting from the touchline. Four minutes later Omar Alrawi crossed, this time wide on the left with Fields again adding the extras.
The flood gates might have opened much earlier in the piece had a try by left wing Squires not been chalked off for a forward pass. Parkside's third try of the opening 40 went to lively hooker Casey Canterbury who went over for an individual score on 25 minutes with Hullock converting. This brought the score to 18-6, the Lions having scored their first and ultimately last try of the match on 19 minutes when a high kick was well caught by their left wing.
Skipper Ben Shulver was very proud of his team's performance:
"Today's Cup win was a great first run out for some of us who haven't played since last September. Before the game we just asked for plenty of enthusiasm and from 1 to 17 there was plenty of that, especially the new lads coming into the First team. I couldn't have asked much more from them, and in conditions that weren't the best to rack up a score like that was outstanding".
A great opening to the new season following last week's Yorkshire Cup Final victory now continues with a 2nd round game in the prestigious Betfred Challenge Cup.
The Old Boys will now face Stanningley at their Beza Street home in the next round which will be played on Saturday 29 January, KO 2pm (to be confirmed). Joining Parkside in Round Two will be semi-pro neighbours Hunslet RLFC who will take on Keighley Cougars on Sunday 30 January at South Leeds Stadium, KO 3pm.
Hunslet Club Parkside: Craig McShane, Will Cohen, Jake Dearden, Omar Alrawi, Connor Squires, Andy Hullock, Ritchie Westwood, Elliott Morgan, Casey Canterbury, Jamie Fields, Ben Shulver(c), Harry Dodd, George Clarke. Subs: Sam Bayley, Bradley Wheeler, Kieran Webster, Michael Waite.
Player of the Match: Craig McShane.
Coaches: Paul McShane, Sam Thorpe and Carl Briggs
This post was written by Phil Goodfield

Photo: Will Cohen crosses for Hunslet Club Parkside's first try via YouTube
We encourage anyone living or working in South Leeds to use this website to tell their news. You can either use the Create an article for South Leeds Life page, or email us at: info@southleedslife.com