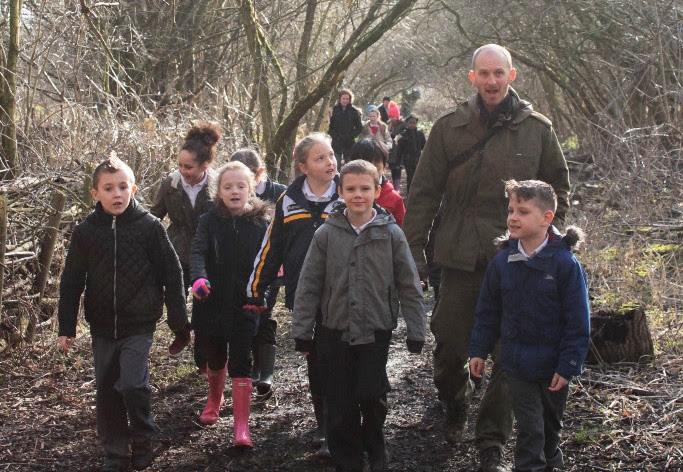 Skelton Grange Environment Centre in South Leeds is looking for volunteers to inspire children to discover a love for nature.  Each year Skelton Grange opens its doors to over 3000 children, providing a mixture of science, games and bush craft activities.
Over the last 25 years children's average screen time has more than doubled to over 6 hours a day*, and combined with increased traffic, lack of green spaces and perceived 'stranger danger' it leaves little time for children to explore and play in natural spaces: in fact three quarters of UK children spend less time outside now than prison inmates! When children visit Skelton Grange they have a great time exploring and learning about nature in the 10 acre nature reserve.
Volunteering at Skelton Grange gives you the opportunity to share the wonder of nature with children and help reconnect children with the natural world.
"Many children that visit the centre have never been to a woodland before and are scared as they expect to find bears in there" according to Chris Ensor, Education Project Officer. "It is also common for children to be scared of mud and sitting down on the floor in the morning, but by the end of the day they feel much more at home outdoors and it is great to have helped with this process."
Volunteers are given training and support in working with children and would be mentored by a line manager. Previous volunteers at Skelton Grange have gone on to do a large range of jobs in the education and environment sectors.
Skelton Grange are looking for people who can volunteer for 2 to 4 days a week to help guide small groups of children around their site. Volunteers don't need to have any previous experience of working with children, just the desire to learn and the enthusiasm to get involved.
If you are interested in volunteering at Skelton Grange please visit their website www.tcv.org.uk/skeltongrange/ volunteering/key-volunteers to find out more.
Volunteer posts are subject to an enhanced DBS check.
More information can be found at www.tcv.org.uk/skeltongrange or (0113) 243 0815 or skelton@tcv.org.uk
*The Connected Kids report, compiled by market researcher Childwise.