Orphaned and penniless but ambitious with a limitless imagination, the American entertained PT Barnum rises from poverty and creates something extraordinary. With themes of self-acceptance, individuality and community, this theatre performance of The Greatest Showman, is one to watch this December.
The Greatest Showman is a 2017 biographical musical that celebrates the birth of show business and follows PT Barnum as he embarks on a journey of wonder and dreams. With singing, acting, dancing and some magic, you would expect this spectacular performance to occur in a location like the Royal Albert Hall. But residents of South Leeds and surrounding areas will be delighted to hear it takes place at the heart of Hunslet, at The Hunslet Club.
After months of rehearsals, The Hunslet Rogues Theatre Company will step out of the shadows and into the spotlight on Saturday and Sunday, 2 and 3 December 2023 for their performance of The Greatest Showman!
Not only have these talented young people worked hard in rehearsals, but they have also fundraised at The Hunslet Club events, such as the Summer Gala and Halloween, to raise funds for costumes, props, and a theatre programme.
The performance starts before these talented young performers take to the stage, as the main hall at The Hunslet Club is due to have a circus-themed makeover to match the show, with rumours of a candy floss machine making an appearance.
The Hunslet Rogues Directors' Interview
We sat down with the Director Joe Biltcliffe and the Director and Choreographer, Adelina Sewell, to ask a few questions about this upcoming show.
As the creators of The Hunslet Rogues, who have watched many of these young stars develop their skills over the years, how do you feel about them performing another show?
Adelina: As we always say, we are so proud of Rogues and the members and are always rooting for them to achieve their best. From original members to new members, we have formed a family with them, and nothing is better than helping them chase their goals. Rogues is the highlight of our week, and the laughter and fun we have will always be happy memories for us. Coming from a theatre company background myself, I know these friendships and memories will be some of the favourites of their childhood. I am glad we have contributed to that.
Joe: Excited. We love running Rogues and seeing our member's talent develop through our weekly sessions, but the lead-up to the shows is where our Rogues truly shine. We're around three weeks from the show now, and we're seeing new leaders emerge and new levels of resilience, passion, and effort.
There always seems to be drama on show days (it wouldn't be a good theatre company without it), but it's time like those that they really show their quality as performers and as people. A lot of work goes into putting on our shows, and it's always great when the day comes around to show that work.
What has been the most memorable moment during rehearsals?
Adelina: There have been many moments in rehearsals that will always be a happy memory. The simple times I enjoy the most, like the laughter, silliness and jokes that happen while we do something we love. But I also love seeing the passion these kids have, working hard to do their best and moments where goosebumps form as they sing their hearts out – especially when it brought Joe to tears.
Joe: I could answer this question with an essay. There are too many great memories to choose from. However, one of our most recent sessions stuck with me. It was a pretty intensive session in which our members were learning a tough and technical number – From Now On. They had put their all into it. Towards the end of the session, we did a run-through of the full song, and it was just such a beautiful moment where everything came together. The performance standard was so high, and there was a real sense of unity in the group. I will admit that it brought a slight tear to my eye; we were exceptionally proud of them.
Why should people attend this show?
Adelina: Everyone involved has worked tirelessly to produce an exciting and entertaining production. Everyone wants to show the work and effort they've put in, and we need an audience to do so! The bigger the audience, the more people we get to show the talent and skill of our young performers.
Joe: If you are looking for some excellent entertainment for the whole family at a great value price, it's a no-brainer. Our Rogues have put their blood, sweat and tears into this show, and they deserve a great audience to display their work.
Why did you pick The Greatest Showman?
Adelina and Joe: A few reasons factored into our choice to put on The Greatest Showman. The Greatest Showman is a challenging show on a technical level and deals with some real issues throughout the story. It seemed like a good fit as it would offer our members the right level of challenge while allowing them to perform in a bit more of a cultured performance than we're used to. I think the main reason for choosing this show, however, is what it represents.
At its core, The Greatest Showman is about uniqueness, acceptance and embracing our differences to discover the best version of ourselves. We felt this message was very fitting for our group and a show we could all be passionate about in our own way.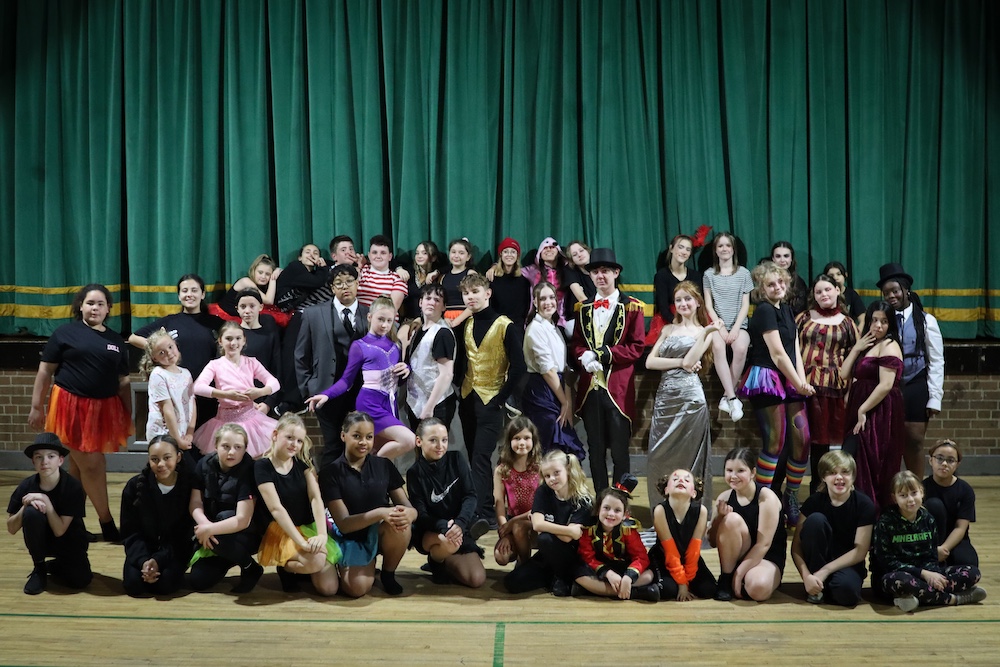 The Hunslet Rogues Cast Interview
We also talked to a few members of this incredible cast! With over 45 members, this group is bursting with talent.
Are you looking forward to the upcoming performance?
Lucy M: I'm so excited for people to see the product of all our hard work!
Why do you like participating in these showcases?
Chloe: It allows me to do what I am passionate about, and I get to meet lots of talented people; also, I love seeing the audience enjoying themselves!
Lucy: I like participating in the showcases and shows because it's exciting, and the atmosphere is really nice, and we all come together and help each other – it brings us together as a team.
How does being involved in shows like this help you?
Lottie: I love performing with Rogues because we are just one big family, and every Wednesday, it brings me joy to be around them.  When it comes to show day, everyone is so supportive. Joe and Addy are amazing people who should be so proud of themselves for making us who we are today, from when we first joined to then performing big shows. I wouldn't be who I am today if it wasn't for all these amazing people who push you to be your very best but also be your friend and a part of your family.
Lucy M: Rogues has helped me so much with my confidence, at the start, I was too scared to even talk but now I love to get involved and I've taken on more leadership roles.
Why should people attend this show?
Myla: Because we love to make people happy!
Lucy M: If you want a show that is full of wonder, fun and talent – look no further!
Join us this Christmas!
These young performers deserve to take to the stage in December and look out to a packed crowd who recognise the hard work, commitment and talent that has gone into this show. The Hunslet Rogues have worked tirelessly every Wednesday, practising and perfecting their dance routines, musical numbers, magic tricks and more.
You can support this talented group and have a memorable day out by buying tickets for this performance. Standard tickets are £5, family tickets are £15 (2 adults, 2 children), and those under 3 go free.
Click here to book your tickets
Saturday 2 December and Sunday 3 December 2023, with doors at 5pm.
While you're here, can we ask a favour?
South Leeds Life is published by a not-for-profit social enterprise. We keep our costs as low as possible but we've been hit by increases in the print costs for our monthly newspaper – up 83% in the last 12 months.
Could you help support local community news by making a one off donation, or even better taking out a supporters subscription?
Donate here, or sign up for a subscription at bit.ly/SLLsubscribe