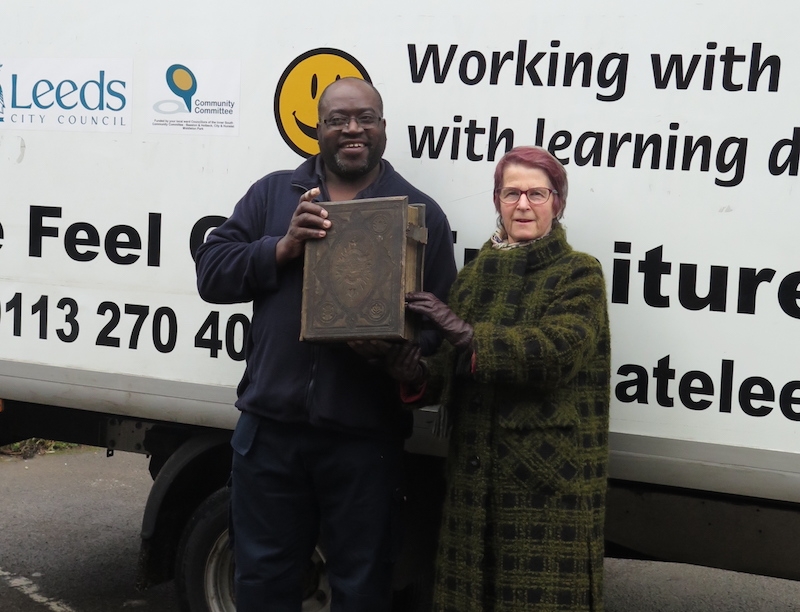 The Feel Good Furniture Shop (run by SLATE to provide opportunities for people with learning difficulties) has received a most unusual donation – a family bible.
This impressive leather-bound volume is a Brown's Self-Interpreting Family Bible, complete with illustrations and pages for the family to enter their key dates of marriage, births and deaths.
The bible belonged to the Ramsden family who lived and worked in Holbeck. The entries show that Israel and Sarah were married in Leeds Parish Church on 23 May 1868. They went on to have 10 children, 6 of whom lived on into adulthood.
Frances Jones from SLATE has done some research into the census returns from the period, which show the family living at various addresses in Wortley, then part of the Holbeck ward. Like most of his neighbours, Israel worked in industry, describing himself as either a machine moulder or an iron moulder.
He died in 1899, but Sarah lived on until 1910. The last two entries in the bible are for their offspring Walter, who died in 1943, and Sarah Emma, who died in 1 July 1949.
SLATE would love to hear from any the Ramsden family descendants to piece together more of their family history, and to restore the bible to the family. Please contact the Hunslet shop on (0113) 270 4005 or get it touch via the SLATE web-site www.slate.co.uk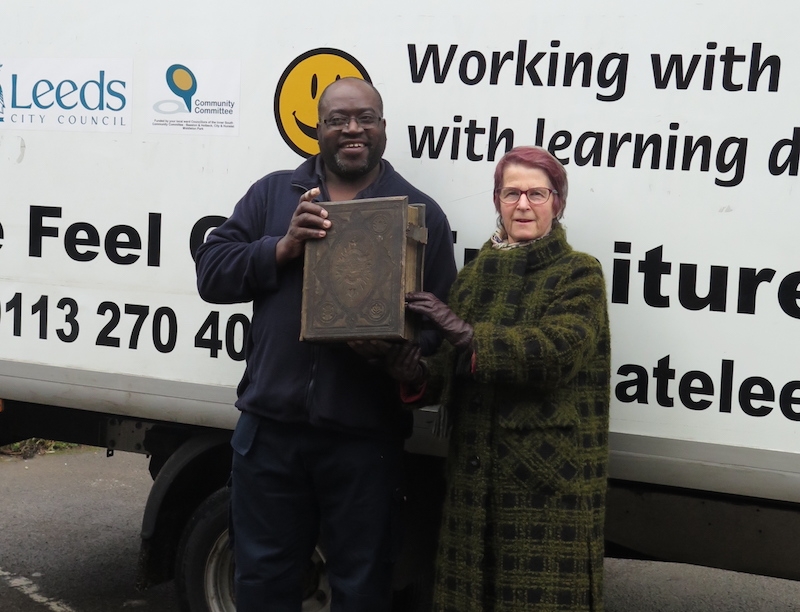 The photo shows Frances with Nicholas Garvey who works as a driver's mate.
"This is a really interesting job," said Nicholas. "You never know when something unusual is going to turn up, like this old bible. And we meet some lovely customers – both people who donate us their old furniture and people who buy from the shop."
Transcript of Family Register, in front of New Testament
PARENT'S NAMES
Israel Ramsden Born May 11 1846
Sarah Ramsden Born April 26 1847
WIVES SUBMIT YOURSELVES UNTO YOUR HUSBANDS
CHILDREN'S NAMES
John William Ramsden            Born May 2 1868 – d1872
Alice Ramsden                        Born March 14 1870 – d1872
Ann Ramsden                          Born Febuary 3 1872
Fred Ramsden                         Born Febuary 3 1874 – d1874
Walter Ramsden                      Born November 15 1875
Ada Ramsden                          Born Febuary 15 1878
Willie Ramsden                       Born November 29th 1880 – d1905
Harry Ramsden                        Born Feb 1 1883
Sarah Emma Ramsden            Born Sep 1 1885
Maryella Ramsden                   Born Oct 19 1888
CHILDREN ARE AN HERITAGE OF THE LORD. SUFFER LITTLE CHILDREN TO COME UNTO ME
MARRIAGES
Israel Ramsden
Married to Sarah Ramsden
May 23rd 1868. At the
Parish Church at Leeds
DEATHS
Alice Ramsden                        Died May 24 1872
John William Ramsden            Died December 8 1872
Fred Ramsden                        Died August 30 1874
Israel Ramsden                        Died October 3 1899
Willie Ramsden                       Died January 13 1905
Sarah Ramsden                       Died May 14th 1910
Harry Ramsden                        Died December 25 1924
Walter Ramsden                      1943
Sarah Emma                            July 1 1949
BLESSED ARE THE DEAD WHICH DIE IN THE LORD