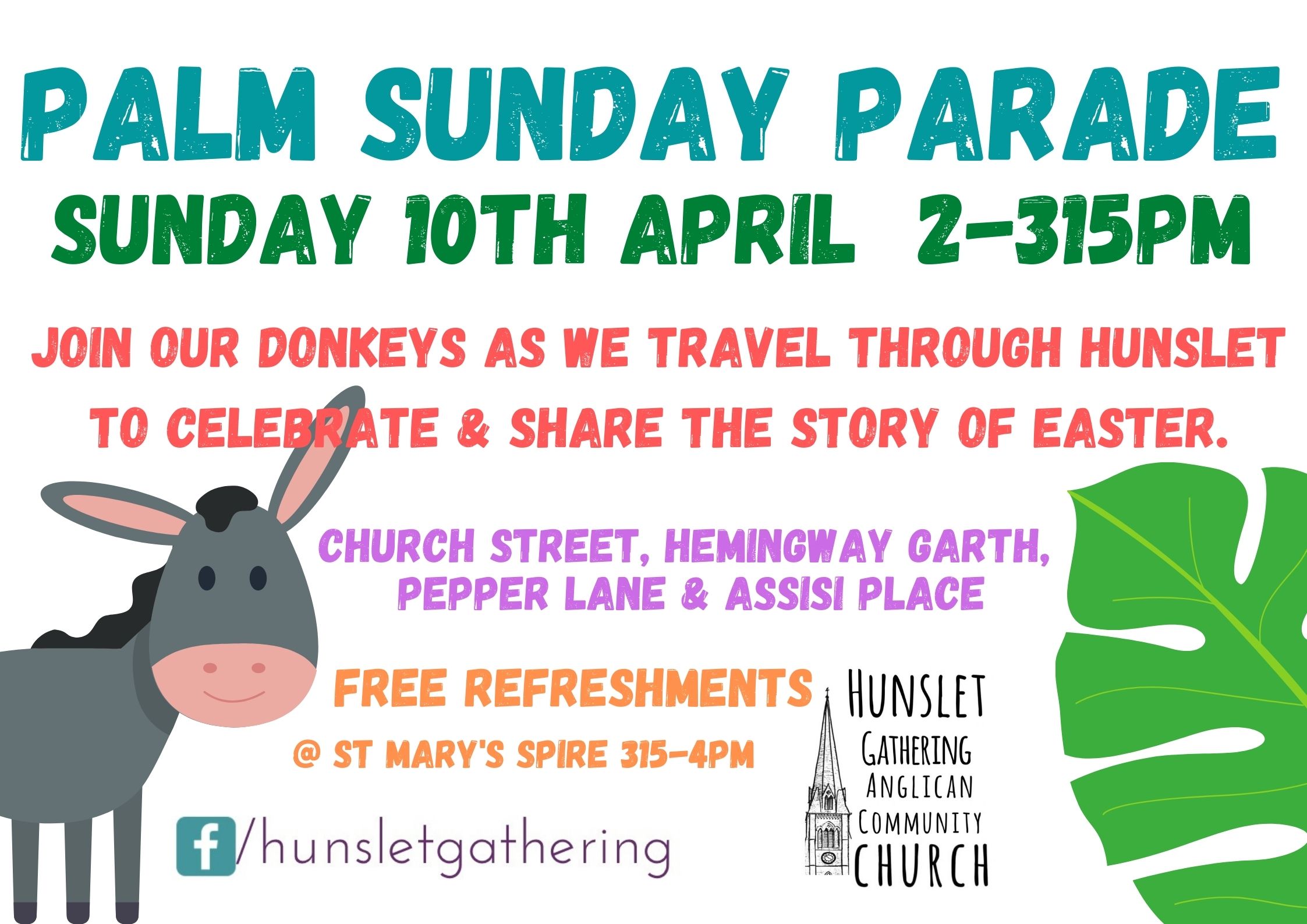 On Sunday (10 April 2022) two donkeys will journey through the streets of Hunslet as part of Easter Celebration with a difference, and you have chance to be part of it! The event has been arranged by Hunslet Gathering – a new Anglican church in Hunslet. Throughout the journey we will retell the story of Palm Sunday when crowds – inspired by Jesus ministry of miracles, healings and hope – flocked out to celebrate as Jesus entered Jerusalem on a donkey.
The Parade will begin on Church Street at 2pm, travel between the Hemingway flats, through the common/green space then stopping at the shop on Pepper Lane. The return leg meanders through Rocheford Close, Balmoral Chase and Belinda Street with a stop off at Assisi Place. The celebration concludes with refreshments next to St Mary's Spire between 3:15-4pm.
Each stop will include a Bible reading relating to the Easter story retold by an all-star cast of local children and adults. Music will also be played throughout the walks between the stops. The entourage will be decorated by a variety of eye-catching flags and palm leaves.
In December we hosted a similar Nativity themed event which was great fun! It was wonderful to share the true meaning of Christmas on the streets of this amazing community. A particular highlight was the stop at Asissi Place residential home where the donkeys were a big hit! Thanks to everyone else who joined in and made that event possible.
We would love you and your loved ones to be part of the fun this Eastertime by either joining in all or part of the journey or meeting us at one (or more) of the stops.
There will also be opportunities to stroke and feed the donkeys
Parts of the event will be broadcast on the Hunslet Gathering Facebook page – www.facebook.com/hunsletgathering Further details on the event including the route can be found here. Alternatively contact Ben Hutchinson on 07419 366058.
Everyone is invited to the finale of the parade on the grass area next to St Mary's Spire (in front of the Primary School) between 3:15-4pm for hot drinks, refreshments, crafts and to meet the donkeys.
The Hunslet Gathering is an emerging Anglican Church seeking new ways to serve Hunslet and share the good news of Jesus. New members are welcome anytime whatever age, background or church/faith experience. Our current activities include:
A monthly service on the third Sunday of the month 3:30-5pm at Involve Centre (Whitfield Avenue) including a FREE meal.
Outreach in the community each Thursday morning.
Various online services, prayer meetings and bible study groups.
A termly Messy Church event for children and families to enjoy arts & crafts, Bible stories and a meal.
For more information with our Facebook page – www.facebook.com/hunsletgathering or contact Ben Hutchinson on 07419 366058