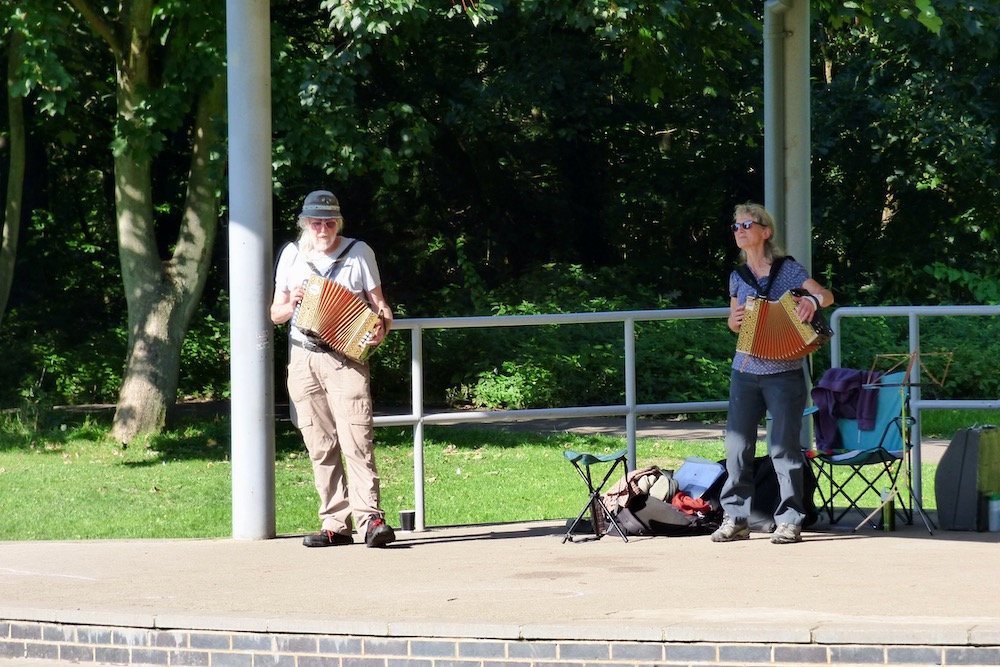 The Friends of Middleton Park (FOMP) were finally able to start their Covid-secure summer season today (13 September 2020) with a concert by the Hands Across Ceilidh Band.
This year the Friends should have been celebrating the park's 100th anniversary, but a the Covid-19 pandemic hit Britain all events in Leeds parks were cancelled indefinitely.
Two more concerts are planned with the Caribbean rhythms of East Steel on the bandstand next Sunday (20 September) and Improplay Dance will do some playful dance with the audience, safely, on Sunday 27 September. Both events run 2-4pm and FOMP stewards will be on hand to help everyone stay safe. The park cafe will be open for the events but you are asked to bring your own chairs.
The centenary celebrations may have been put on hold until next year, but John Newbould from the Friends of Middleton Park has uncovered press cuttings from 1920.
In 1920 the land came into the ownership of Wade's Charity. They then leased it to the then Leeds Corporation for 999 years at a peppercorn rent on £1 per year, the land to be used as a public park and open space for the people of the city.
The official handing over took place on Friday 23 July 1920 with Councillors travelling from Leeds Town Hall to the park for a tour followed by luncheon. The park was then opened to the public and there were brass band performances on the Friday and Saturday by RAMC Comrades Military Band.
Writing in the Yorkshire Weekly Post on 31 July 1920, Edmund Bogg welcomed the 'New Park For South Leeds' in rather flowery language:
"It was, indeed, a happy thought which came to the trustees of Thomas Wade's charity to purchase the beautiful domain of Middleton, which rises to such a commanding elevation south of Hunslet, Holbeck and Beeston, with its embosoming fromlage [sic] and emerald meads; and make a present of it (on a 999 years' lease) to the city for yet another public park."
This extract from the Leeds Mercury of July 1920 'Gift of a New Park For Leeds' describes a growing city with new council housing, with the south of the city dominated by heavy industry:
"When the scheme was first projected the Middleton township was not then within the city, but it was evident that the decision to save the estate came not a moment too soon. By general consent an extension of the city boundary to include the district was carried out last year , and the urgency of this step was recognised as the greater when it was resolved that Middleton – toward the southern of the new park – should be the site of one the great housing schemes of the municipality.

"Already the northern end of the park has assumed a severely industrial aspect. Coal mines elbow the patch of greenery to left and to right, and one reaches the lodge at the entrance through an avenue of pit head gear, railway waggons, volcano slopes of smoking tip from the furnaces of ironworks and brickworks, and amid an atmosphere of black smoke, grey smoke, yellow smoke and snowy steam, each cloud with its special significance to the industrial eye.

"To the tired town-dweller the instant contrast on passing the gates and entering the sweet seclusion of the woodland is the more delicious for such an approach."

"The two arms of the woodland enclose a space of grassland much more level in character and extending to 110 acres. This will be available for recreation purposes. Much of it is on a pleasant slope to the west, but it should not be very difficult to find room here for excellent cricket and football grounds, tennis courts, and the like. They will be presently much more easily accessible than now, for a tramway is to be carried through the district to the new garden village of Middleton."
You can read the full articles online at fomp.co.uk/history/jnmidpark