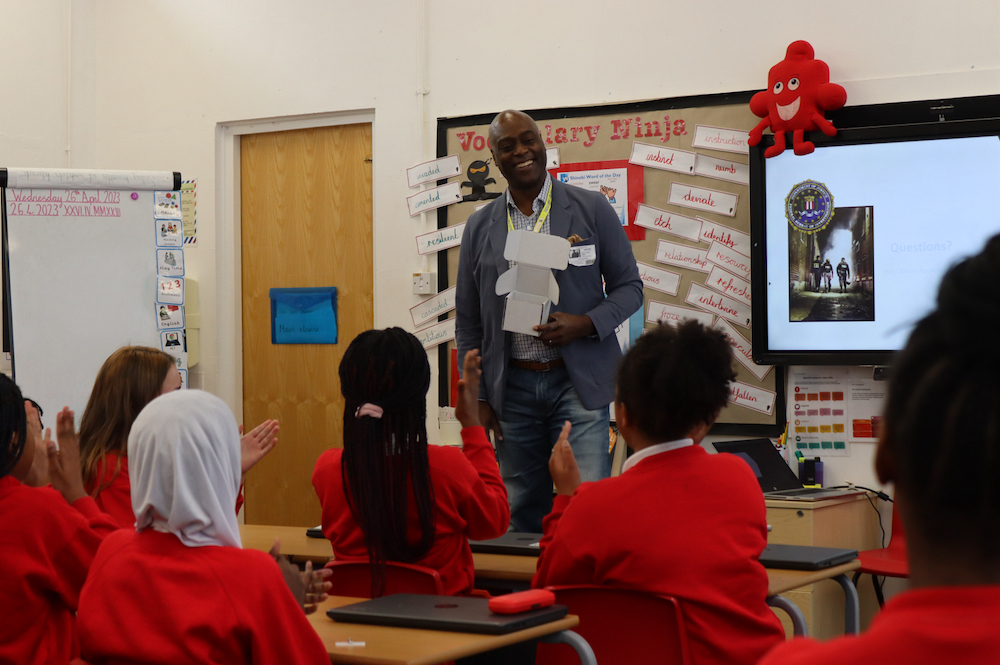 It's not every day that you receive a visit from an FBI Special Agent, but pupils at Cottingley Primary Academy, Leeds, have welcomed Miguel Clarke, a former FBI Special Agent for a session about online safety.
The visit was organised by Andrew Firth, MD of Leeds-based digital marketing agency Ascensor. He explains:
"Miguel is visiting the UK to address businesses on cyber crime, and we are supporting this by holding business briefings and webinars. We couldn't miss the opportunity to enlist his expertise by visiting one of our local primary schools."
During his visit Miguel met 32 Year Six pupils with a programme of activities looking at online safety, including discussions, informative videos, questions and answers, and rules to help stay safe online.
Commenting on Miguel's visit, Cottingley Primary Principal, Kelly Bentley, says:
"We were thrilled to welcome Miguel to chat with our pupils. Online safety is an important element of our children's education and his visit provided an exciting and engaging session."

"One of our values at Cottingley Primary Academy is 'Be Unusually Brave.' We encourage our pupils not to be afraid of challenging wrongs, of making the right call, even when it's both unusual and difficult to do so. Miguel emphasised the importance of bravery and speaking out to their teachers and parents about online dangers they may encounter. Our pupils were very excited by his visit and I'm sure his session will prove memorable to them."
Miguel says:
"Online safety is a key topic for children, and I was very happy to be invited to Cottingley Primary Academy. The pupils were engaged and intrigued about my FBI cyber security background, and I hope that my visit has been helpful in the stressing the importance of online safety for our children."
Andrew Firth adds:
"We're delighted that Miguel found time in a packed schedule to visit Cottingley Primary. He is in the UK with Armor, a cyber security advisory firm, in partnership with Digital Craftsmen, as an evangelist for cyber security, and has also delivered business cyber security briefings, webinars and conference speeches during his whirlwind visit."
This post is based on a press release issued on behalf of Ascensor
While you're here, can we ask a favour?
South Leeds Life is published by a not-for-profit social enterprise. We keep our costs as low as possible but we've been hit by increases in the print costs for our monthly newspaper – up 83% in the last 12 months.
Could you help support local community news by making a one off donation, or even better taking out a supporters subscription?
Donate here, or sign up for a subscription at bit.ly/SLLsubscribe