On Saturday 20th November faith groups, community organisations and local residents are coming together to brighten up our community through litter picking and we'd love you to join us…
Litter is an ongoing problem throughout south Leeds but we can all play our part in tidying up and making our neighbourhood a better place. Lots of individuals and organised groups are already proactive in doing this through regular clean ups.
On Saturday (20 November 2021) St Luke's Church will be the base for a big community clear up operation in around the streets between the M621, Cemetary Road and Beeston. Please arrive at 1:45pm for a short briefing. 2-4pm will be spent out on the streets in small groups. At 4pm everyone will return together for a well earned drink and cake at St Luke's Church.
All equipment including gloves, litter pickers and bags will be provided, all activities are risk assessed and people will work together in teams.
Please join us and invite family, friends and neighbours to do the same! The more the merrier! If you are unable to help with the litter picking but could contribute cakes/similar for the refreshment time please contact Ben Hutchinson on 07419 366058.
For more information please look out on the South Leeds Life website and also watch the "St Luke's Church Holbeck" Facebook page.
St Luke's Church is situated on Malvern Road on Beeston Hill.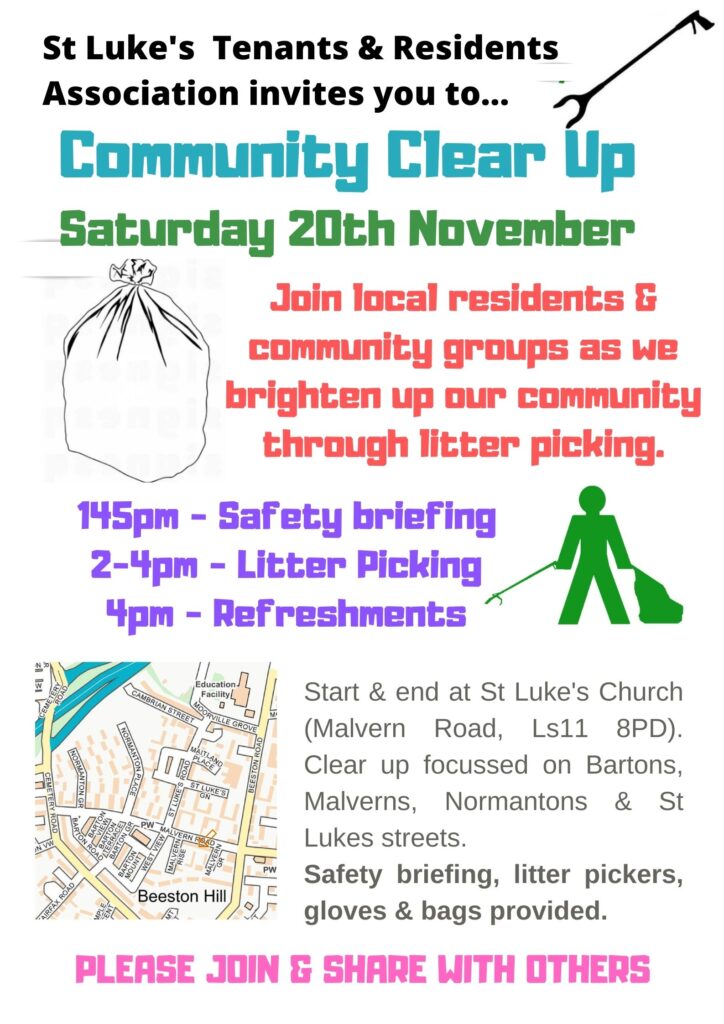 This post was written by Ben Hutchinson

Photo: Litterpickers at the church in 2018 (in warmer weather).
We encourage anyone living or working in South Leeds to use this website to tell their news. You can either use the Create an article for South Leeds Life page, or email us at: info@southleedslife.com