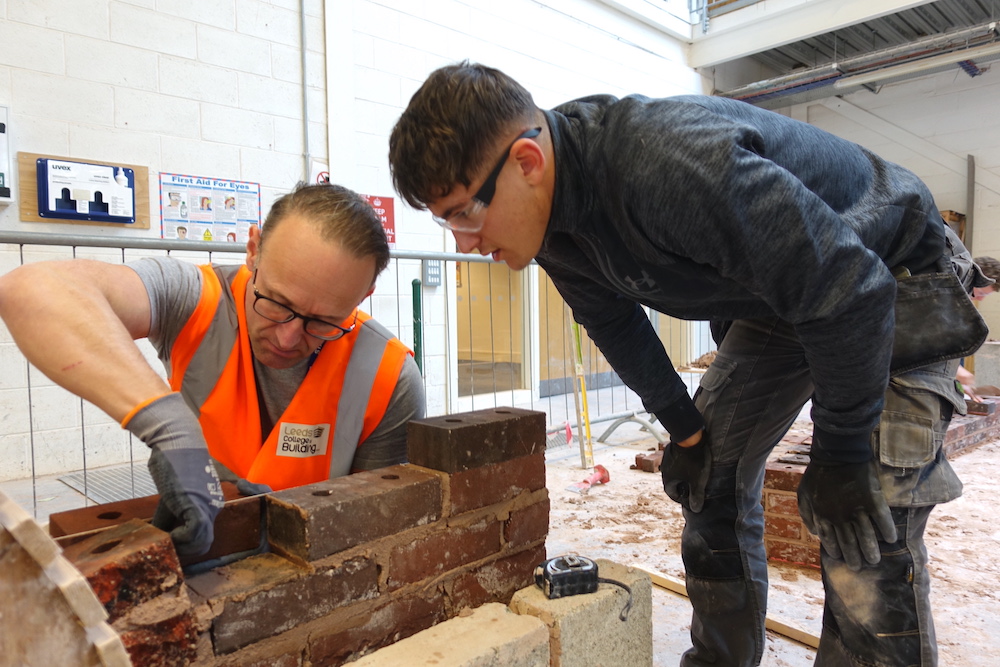 A leading housebuilder has cemented its relationship with the next generation of construction professionals, thanks to a substantial donation of bricks for education and training purposes.
Persimmon Homes, which has its West Yorkshire headquarters in Leeds, arranged the special delivery of materials to Leeds College of Building.
The 72 packs of house bricks amount to three lorry loads – more than enough to keep aspiring bricklayers busy for the foreseeable future, according to Steve Connell, Faculty Director in Construction Crafts:
"On behalf of the College and the brickwork department, I would like to thank Persimmon Homes for this generous donation," said Steve. "It will allow us to continue delivering excellent teaching, learning and assessment to a large and broad range of bricklaying students. These include apprentices, full-time students, and adult learners."
Steve Roberts, Brickwork Tutor at Leeds College of Building, said:
"This really is an astonishing quantity of bricks to donate to the College and we can't thank Persimmon enough. Using industry-standard materials is vital for our training. Our students need to learn the right skills to become the next generation of building professionals and plug critical bricklaying talent gaps in the industry."
The brick donation is the latest development in the partnership which has seen Persimmon Homes representatives tour the College's vast brickwork facilities. The housebuilder has also employed two full-time students as apprentice bricklayers.
Stuart Galloway, construction director at Persimmon Homes West Yorkshire, added:
"With many developments across the region and potentially more than five new sites expected to begin this year, we know how important it is to support construction students and help develop a diverse, talented workforce for the years ahead. Demand for quality new homes shows no sign of slowing, so it is vital to maintain a pipeline of fully trained talent to meet the needs of the local economy.

"That's why we work closely with the college in an effort to help students learn their trade and offer hands-on experience in all aspects of construction. We'd like to think that some of today's students will progress into apprenticeships and fulfilling careers within the industry – and with Persimmon Homes."
To find out more about Bricklaying courses at Leeds College of Building, visit: www.lcb.ac.uk and for career opportunities at Persimmon Homes visit www.persimmonhomes.com/jobs
This post is based on a press release issued on behalf of Leeds College of Building
Photo: Tutor Steve Roberts demonstrates brickwork skills to student using Persimmon bricks at Leeds College of Building