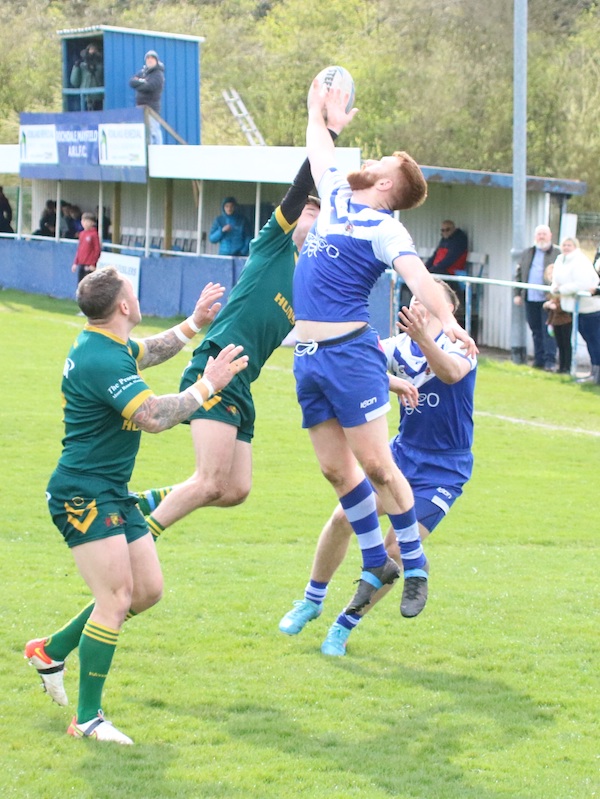 Rochdale Mayfield 18-22 Hunslet Club Parkside
Round 5 of the National Conference League Premier Division saw Hunslet Club Parkside on the road again, this time just over the Pennines with Rochdale Mayfield making up the opposition. Expectations were high for a successful trip and so it turned out with Parkside building up a half time lead of 16-6 and eventually coming out on top with a 22-18 scoreline. Ultimate success only came however after the home side had taken an 18-16 lead at the half way stage of the second 40.
Parkside's first half ascendancy came through three tries – the first two going to prop forward Elliot Morgan crashing through on 15' and then again on 26', both tries converted by Jamie Fields. The third first half score to Parkside came four minutes later and was an individual effort from skipper Ben Shulver who followed through his own chip kick on the last tackle to touch down. 16-2 was a good lead but Mayfield came up with a try right on half time to bring first half proceedings to an end.
The first two tries of the second period, both converted, went to the home team giving them the lead for the first time in the game and at the same time calling for a response from the Old Boys. That response duly came when Danny Rowse put through a smart 'grubber' kick which was pounced on by wing Connor Squires to dive over the line to score in the 65th minute. Fields converted from the touchline and that was the last score of the contest.
South Leeds Life asked skipper Ben Shulver for his thoughts after the game and this is what he had to say:
"We're definitely doing things tough recently but, as the saying goes, you don't become a bad team over night. I do think we are one good win away from everything clicking.

"We'll be looking to fix up the parts of our game where we know we're going wrong on the training paddock.

"We've another big week coming up leading into this Pilkington Recs game next Saturday and we'll be looking for more improvements next time out."
The Old Boys will now be looking to build on this hard fought victory against committed opponents when they return to base for a home fixture in NCL Premier Division Round 6, after one loss and one victory on their travels in the last two rounds of the competition.
Next Saturday (9 April 2022) at Station Moor, Beza Street (opposite the Gardeners Arms) Pilkington Recs are the visitors and kick off is at 2.30pm. Admission £3.
The Teams:
Hunslet Club Parkside: Craig McShane, Will Cohen, Kieran Murphy, Omar Alrawi, Connor Squires, Andy Hullock, Danny Rowse, Elliot Morgan, Casey Canterbury, Jamie Fields, Ben Shulver (c), Harry Dodd, Kieran Webster. Subs: Dale Cogan, Dewi Bellingham, Mikey Waite, Danny Lidbury.
Tries: Morgan (15, 26), Shulver (30), Squires (65). Goals: Fields (3).
Hunslet Club Parkside Player of the Match: Craig McShane
Rochdale Mayfield: Corey Newsham, Kyle Marvin, James McDaid, Lewis Butterworth, Rob Kershaw, Ieuan Higgs, Cole Connolly, Jarred Dash, Declan Sheridan, James Mulvany, Reece Hamlett, Jack McConachie, Darcy Maroske. Subs: Ben Metcalfe, Nicholas Hargreaves, Shaun Hurley, Harry McDonald.
Tries: McDaid (40, 59), Mulvany (50). Goals: Connolly (3).
South Leeds Life would like to thank Hunslet Club Parkside Secretary Paul Thorpe for his assistance with this report.
This post was written by Phil Goodfield

Photo: Aidan Gleeson

We encourage anyone living or working in South Leeds to use this website to tell their news. You can either use the Create an article for South Leeds Life page, or email us at: info@southleedslife.com