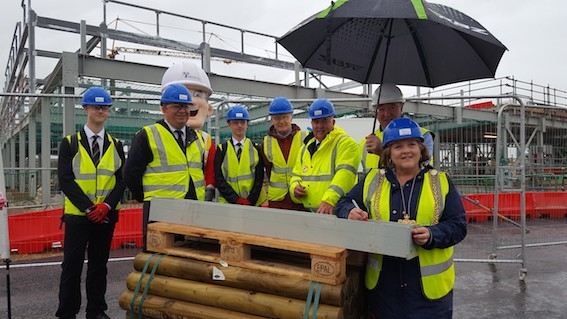 CORRECTION: The topping out ceremony in this article actually happened at Tinshill in north Leeds. The Springwell Leeds Specialist Academy is a multi-site school, one of the four sites is on Belle Isle Road. We apologise for the confusion.
The official topping out ceremony for the final building of the new Springwell Leeds Specialist Academy took place on Friday (29 September 2017) at the Belle Isle Road site.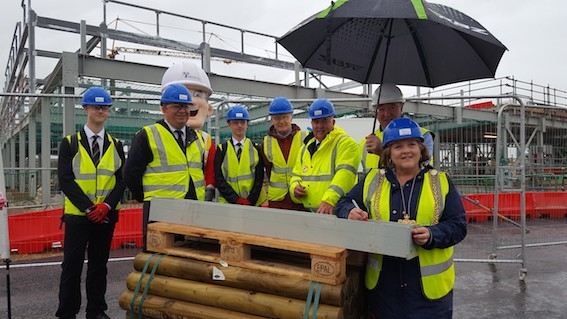 The primary provision is already up and running at Oakwood and the new secondary sites will be located in north, east and south Leeds. The new school will provide a world-class specialist learning environment for pupils aged between 4 and 19 with social, emotional and mental health (SEMH) needs. Leeds City Council has covered the cost of the £45 million project to transform specialist SEMH education in Leeds.
The council has worked collaboratively with the Wellspring Academy Trust, Leeds Local Education Partnership (LEP) and Interserve Construction, to ensure the unique requirements of Wellspring's SEMH delivery model and the SEMH pupils are met.
Interserve, the international support services and construction group, has been on site since September 2016 constructing the three new buildings which will include specialist teaching areas, sensory rooms, outside learning areas and sports pitches, as well as multi-use games areas.
The school will be run by the Wellspring Academy Trust, a multi-academy trust and approved DfE Academy sponsor that is focused on improving life chances for pupils and communities in the Yorkshire and Humber region. Experts in the education of young people with SEMH needs, the Wellspring Academy Trust is the only SEMH provider in the north of England to be rated 'outstanding' by Ofsted.
Councillor Lisa Mulherin, executive member for children and families, said:
"It is great to see the buildings progressing and on track to open next year. This is an exciting time for specialist learning provision within the city, and the £45m investment demonstrates our commitment to ensuring all pupils are supported to succeed and reach their full potential. This new specialist provision will radically improve the learning, support and outcomes for some of the city's most vulnerable children."
John Gittins, divisional director at Interserve, said:
"This school demonstrates a significant investment by Leeds City Council into the education of pupils with social, emotional and mental health needs in Leeds. Interserve has worked with Leeds City Council and the Leeds Education Partnership for several years to deliver numerous projects around the city and we look forward to continuing this relationship as the Council continues to invest in its education facilities.

"At Interserve we are fully committed to providing true social value and implement bespoke employment and skills plans on all our projects, helping to ensure we benefit the local people and communities. This project has created new jobs and opportunities for local people and we continue to work closely with local education providers to benefit their students."
Scott Jacques, Executive Principal of Springwell Leeds Academy, said:
"The topping out ceremony is an exciting and important milestone in the development of Springwell Leeds Academy. We are delighted to be working with our partners at Leeds City Council and Interserve to deliver this unique project which will ensure that the City has access to world class provision for children with social, emotional and mental health needs. Our students, parents, carers and staff have all followed the construction process closely and are really excited at the prospect of moving into these incredible new buildings in the near future."
The project completion is expected for July 2018, with the three sites ready in time for the 2018 academic year.