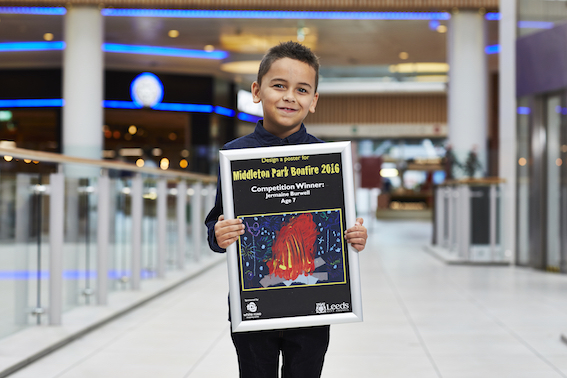 White Rose Supports Local Creative Talent in Celebration of Bonfire Night
White Rose Shopping Centre is adding extra sparkle to Bonfire Night this year by sponsoring the Middleton Park and Rothwell Springhead Park events, which have both enlisted the help of their local schools to design a poster for the evening. The winning designs, chosen by White Rose and Leeds City Council from more than 1,200 entries, will be showcased at the winners' schools and at White Rose in the run up to the event.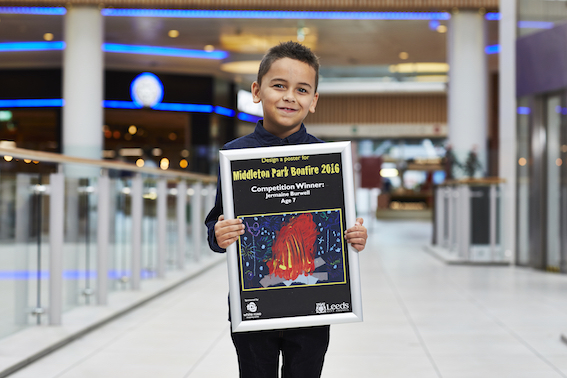 The winning designs have been created by Jermaine Burwell, aged 7 and Jamie Griffin, aged 9. Both bonfires will be lit at 7pm on Friday 4 November 2016, with fireworks set to begin at 7.30pm.
Steven Foster, General Manager of White Rose Shopping Centre, said: "We're delighted to be sponsoring the Middleton Park bonfire once again, as well as Rothwell Springhead Park for the first time; the events are always a magical start to the winter season. We'd like to thank all of the schools and the children that have taken part in this year's competition – the standard of entry has been truly outstanding.
"South Leeds is a fantastic area with such a strong sense of community, and we're proud to have been a part of that for so many years. We look forward to enjoying this year's festivities with everyone at the bonfires."
Councillor Lucinda Yeadon, Leeds City Council's executive member for environment and sustainability, said: "Bonfire Night is always a big occasion in Leeds, with lots of fun for people of all ages and this year's event promises to be as spectacular as ever.
"The council is hosting six free public bonfires across the city.  We're delighted that White Rose Shopping Centre is able to support the Middleton and Rothwell bonfires and really value their contribution to the local communities.  And congratulations to Jermaine and Jamie for their wonderful poster designs!"
For more information about the Middleton Park event, visit the Leeds City Council website: Leeds Bonfires 2016