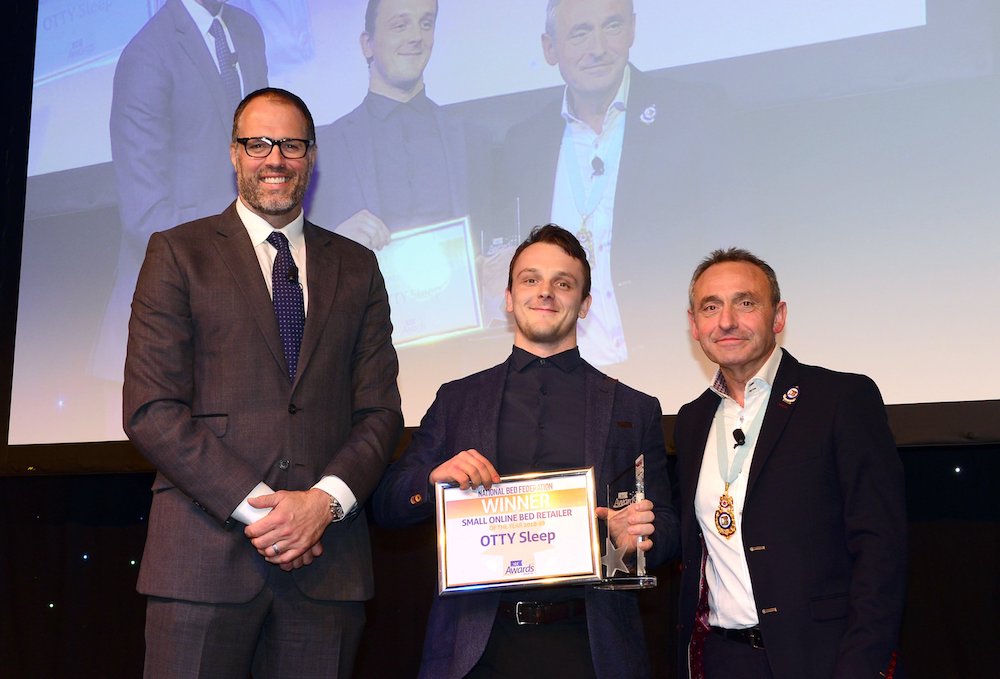 It was a big night for Beeston at the NBF (National Bed Federation) Industry Awards this week (18 September 2018) with not one, but two South Leeds companies winning awards.
OTTY Sleep, the mattress retailer based at The Greenhouse on Beeston Road, founded in 2016, picked up the Small Online Retailer of the Year, whilst at the other end of the business spectrum the fifth generation family firm Harrison Spinks won Bed Manufacturer of the Year (over £10 million turnover) at the ceremony held during The Bed Show in Telford.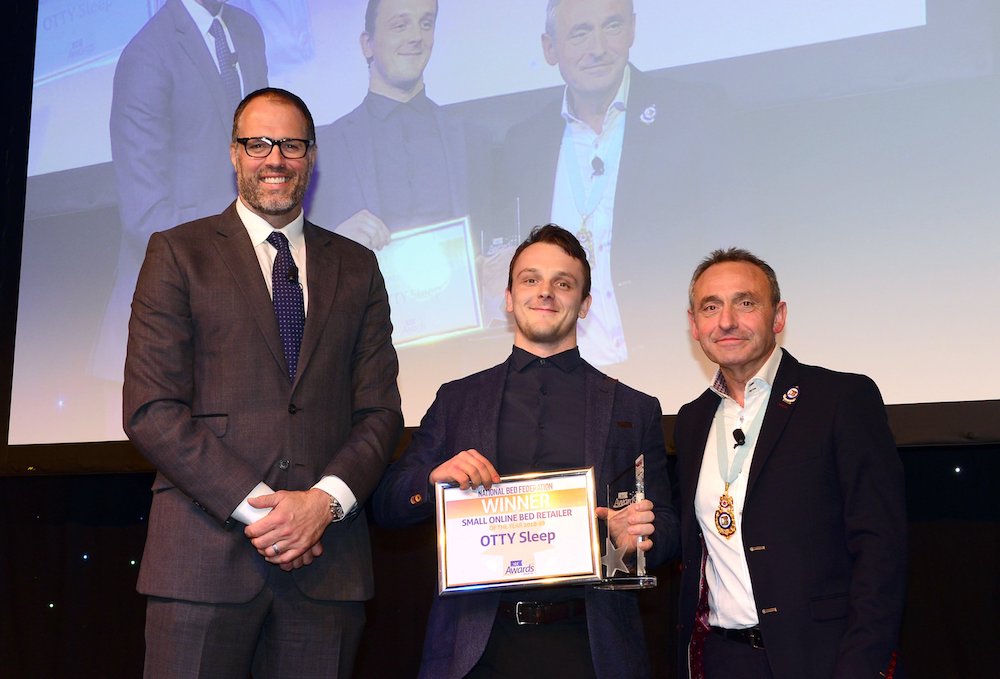 OTTY Sleep was credited for its growing standing in the mattress-in-a-box marketplace, which has seen the company on course to increase its annual turnover by an estimated 400 per cent. The growth has also seen the company venture into Europe for the first time, giving OTTY the opportunity to more than double the number of staff at its Leeds-based headquarters to help accommodate the increasing demand.
As well as praising the profitable model, judges also recognised OTTY's ability to create and develop a competitively-priced product that stands out from the crowd.
Michal Szlas, CEO of OTTY Sleep, said:
"It has been a huge year for OTTY in terms of growth, and it's one that has seen a huge increase in product demand. Ultimately, this has allowed us to gain a strong foothold in the UK market and break into Europe for the first time.

"The mattress-in-a-box market is hugely competitive, so we're thrilled to have been recognised for our hard work. It really is a testament to our small team – all of whom strive to bring the best sleeping options to the customers."
Luxury bed manufacturer Harrison Spinks which has made mattresses, headboards and divans from its base in Leeds since 1840 was recognised for its commitment to vertical integration. The award reflects a number of successes enjoyed by the company in the last 12 months, not least the opening of a new Innovation Centre at its Leeds headquarters, off Dewsbury Road, the first felling of timber from its own forest in North Yorkshire and the creation of a new wire-drawing line at the British Steel plant in Scunthorpe.
The National Bed Federation Award tops off a winning year for Harrison Spinks in which the company was granted two Queen's Awards for Enterprise for Innovation and Export. Spinks Springs, Harrison Spinks' component division, was also awarded a Furniture Maker's Company award for Export in July.
Simon Spinks, Managing Director of Harrison Spinks said:
"We are delighted to be named the National Bed Federation's Bed Manufacturer of the Year in the over £10 million turnover category.

"Our aim is to change the way the world sleeps forever and our commitment to vertical integration – from making the wire for our springs to rearing sheep for their wool – allows us to create every element of our mattresses and beds, moving us closer to reaching that goal.

"To be recognised by our peers and customers for our approach and achievements in the last 12 months is really special and important to the whole Harrison Spinks team."