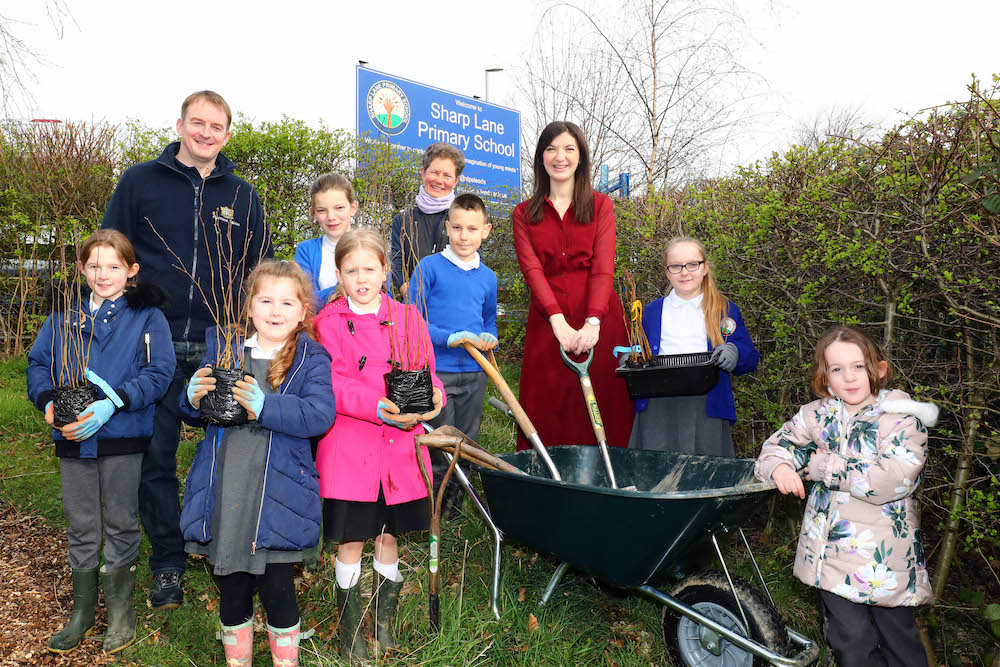 Luxury bedmaker Harrison Spinks has committed to planting 200 trees at Sharp Lane Primary School in Middleton.
One of Great Britain's most innovative bed manufacturers, Harrison Spinks, has enhanced its sustainability credentials further by planting 90 native British broad leaf trees at Sharp Lane Primary School yesterday (19 March 2020). The company has also committed to planting 110 additional trees later in the year, at the beginning of the new season.
The family-run bed manufacturer has always operated with sustainability at its helm and has recently achieved 'Carbon Neutral +' status, a new classification for businesses that go above and beyond full carbon neutrality. This comes shortly after the company offset 3,824 tonnes of Carbon Dioxide in support of the Solar Power Generation Verified Carbon Standard (VCS) project in India.
David Garbett, Quality, Health, Safety & Environmental Manager at Harrison Spinks, said:
"We started our sustainability journey ten years ago with our farm, where we rear sheep and grow natural fibres to create our mattress fillings and added to this more recently with our 56-acre forest that provides wood for our beds.

"We are committed to doing the right thing for a sustainable future so we can all rest easy at night. Last year we launched our first glue-free, zero-to-landfill core mattress unit, Cortec™, and our company currently holds three Queen's Awards for Enterprise, including one for Sustainable Development, summarising our commitment to operating as a business in the most environmentally friendly way.

"We're thrilled to be working with Sharp Lane Primary School on this project. The aim of the scheme is to bolster our ongoing sustainable objectives while also supporting the local community by creating a habitat for wildlife, promoting biodiversity, providing social benefits and developing the local landscape."
Lois Evans, Gardener and Forest School Lead from Sharp Lane Primary School said:
"We are pleased to be working with Harrison Spinks on this project and were delighted when the team approached us about planting 200 whips on our grounds.

"We have a large outdoor area which we are currently developing, and these trees will now provide shelter, screening and habitat, while also managing water bogging, enhancing outdoor play and helping our planet.

"We're looking forward to welcoming the team back in October, when we are able to plant the remainder of the trees."
This initiative is supported by Carbon Footprint Ltd.
This post is based on a press release issued on behalf of Harrison Spinks
Photo: David Garbett (Harrison Spinks), Head Rebecca White, Head Gardener Lois Evans. Children – Tymon, Charlie, Rosie, Ella, Amber, Sophie, Georgia.