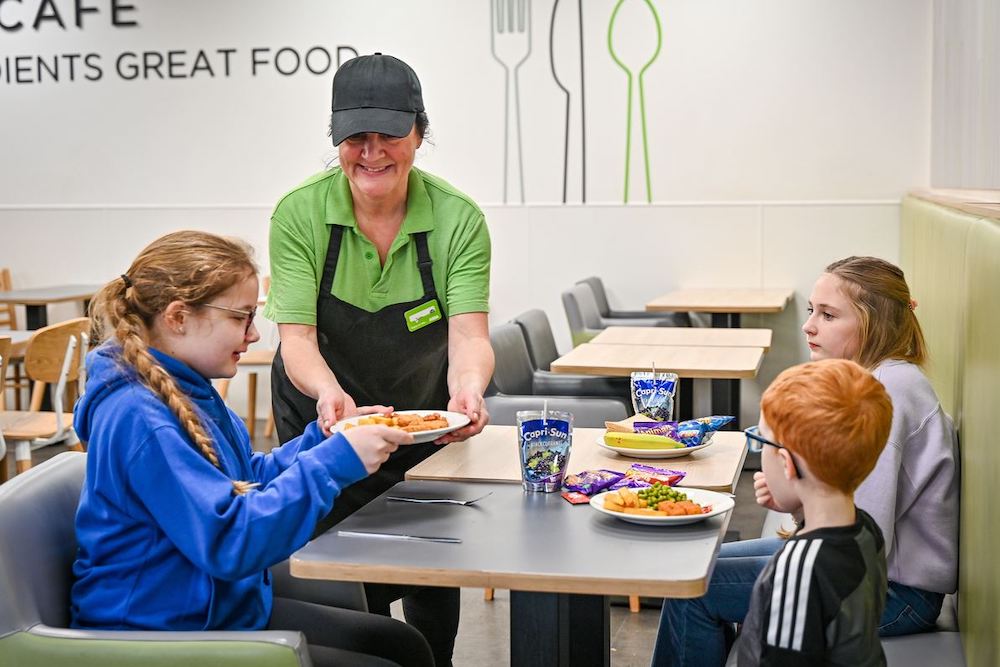 To help customers tackle the cost-of-living crisis, Asda today (30 June 2023) announced that its hugely popular 'Kids Eat for £1' café meal deal will be extended until the end of the year and in addition the retailer will launch half price adult main meals in its cafés from 3pm onwards.
Asda recently refreshed its Kids for £1 menu adding a more nutritionally balanced offer, including new vegan and healthy meal options. The extension will come as a welcomed boost to the many cash strapped families as the long summer school holidays approach. Last summer, over 80,000 meals a week were served across the summer holidays – peaking to over three times the normal levels on an average week.
Asda's latest Income Tracker shows that decrease in disposable income has been particularly stark for low-earning families, with 40% of UK households falling into negative income territory in May – meaning their take home pay does not cover spending on bills and essentials. The average shortfall for these households was £42.50 per week in May.
To help relieve some of the financial pressures for families, Asda are introducing half price adult main mains from 3pm until close* from today – with the Kids £1 meals remaining in place until the end of the year.
A family of four can eat out as little as £8.50 with *the adult menu including some popular favourites including Steak and Ale Pie, served with mash and peas (£3.25), Fish and Chips (£3.25) Chicken Tikka Masala (£3.25), Mac & Cheese (£3.12), Lasagne with Garlic Bread and Salad (£3.25), Scampi, Chips and Peas (£3.25) and Sweet Potato and Spinach curry (VE) (£3.12).
*Asda cafés which have an express diner format will offer a whole 16" pizza for just *£4 from 3pm onwards from today until Monday 4 September 2023.
The supermarket launched the offer for kids under 16 to enjoy a hot meal in any of their 205 cafés in June 2022 and has now served a staggering 1,700,000 million meals to kids from its cafés nationwide.
As an alternative to a hot meal, Asda cafés also offer a £1 kids cold pick and mix selection that includes a sandwich, drink and piece of fruit. The refreshed menu now includes new treats such as a jelly pot with whole fruit pieces or a jelly squeeze pouch as an alternative to a pack of crisps.
Kris Comerford, Asda's Chief Commercial Officer said:
"We know when families are preparing for the school holidays it can often mean an additional strain on household budgets. Our kids £1 café meal deals continue to provide a lifeline to families as we've served over 1,700,000 million meals since launch. Now with the introduction of half price adult main mains in cafés from 3pm onwards, it means we can extend our support to the whole family in the coming weeks and across the summer holidays."
During the summer holidays Asda will be working with leading and trusted educational resource experts Twinkl, to provide café activity packs that are jam packed with holiday fun, educational resources to help you keep children entertained over the summer break.  These resources will be available in all Asda Cafés or from the store's Community Champion from 26 June (whilst stocks last).
These offers are available at Asda stores in Middleton and Old Lane, Beeston.
This post is based on a press release issued by Asda
While you're here, can we ask a favour?
South Leeds Life is published by a not-for-profit social enterprise. We keep our costs as low as possible but we've been hit by increases in the print costs for our monthly newspaper – up 83% in the last 12 months.
Could you help support local community news by making a one off donation, or even better taking out a supporters subscription?
Donate here, or sign up for a subscription at bit.ly/SLLsubscribe