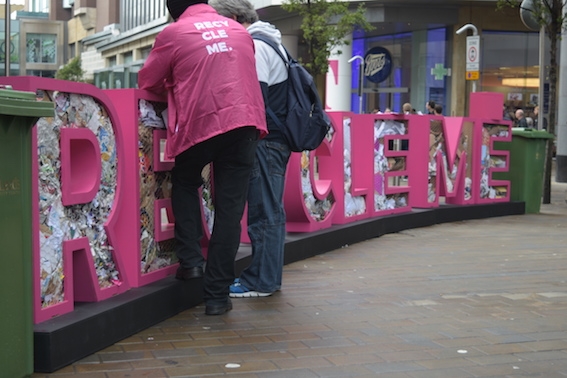 A plea is being issued for residents to help reduce the mountain of unnecessary paper and cardboard waste produced in the city each year.
Last week Leeds City Council gave large sculpted letters to schools and businesses, including Hunslet's The Ruth Gorse Academy and Broomfield South SILC in Belle Isle, which filled them with recyclable paper and card items to highlight the city-wide issue.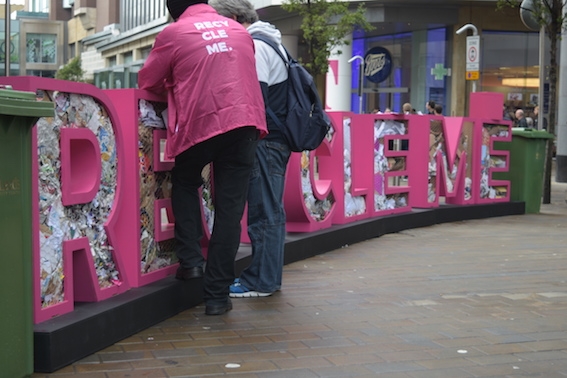 Nine schools and businesses received a sculpture, which was collected at the end of the week to create a temporary art installation on Albion Street spelling out "Recycle Me" (Friday 29 September).
The average Leeds household throws away 82kg of perfectly recyclable paper and card yearly. That is the equivalent of an average British male or almost 13 stone.
More shockingly paper and cardboard thrown into black bins costs the council £2.8m a year for disposal. If this was placed in green bins savings could be passed on to residents through public services.
In particular ready meal cardboard sleeves, packaging from online purchases and flyers are items which end up in black waste bins, but are ideal for recycling.
Councillor Lucinda Yeadon, Leeds City Council's executive member for environment and sustainability, said:
"We really need everyone's help to make sure all the paper and card possible is being recycled in our city. The financial impact would be significant at a time when the council is having to think carefully about its finances.

"Every time paper and cardboard is recycled it saves energy reducing harmful emissions as well as raw materials, which isn't just good news for Leeds but the whole planet. We're asking people to look more closely at what is being thrown away. Even if it's just taking cardboard out of your bathroom bin – it all helps."
Welcome to Yorkshire is one business supporting the campaign and filled a letter with household waste produced by its staff.
Sir Gary Verity, Chief Executive of Welcome to Yorkshire, said:
"What a great visual and engaging way to raise the issue of paper recycling across Leeds and further afield. Welcome to Yorkshire is very pleased to support this and hope it will encourage people to think more carefully about what items can be collected and reused to help prevent any negative impact on our natural environment."
Only a small percentage of people say they are confused about paper and cardboard recycling, yet a staggering 15 percent of black bin waste is made up of perfectly recyclable paper and cardboard.
Soiled pizza boxes, envelopes with windows, junk mail, bus and train tickets, cereal and handkerchief boxes, loo rolls and cardboard packaging from online purchases can all go into green recycling bins.
Examples of things that cannot are – glittery greetings cards, glittery wrapping paper, Tetra Paks, laminated or shredded paper and Jiffy bags.
Arup, First Direct Arena, University of Leeds, Central Square, Welcome to Yorkshire, Ruth Gorse Academy, Kirkstall Valley School, Broomfield South School as well as Marks and Spencer all supported the initiative, which was filmed to document the journey recycled items take in Leeds.
Anyone wanting to find out more can visit www.leeds.gov.uk/paper, or www.whatgoeswhere.org.uk. For bin day reminders and more download the Leeds Bin App http://datamillnorth.org/products/leeds-bins