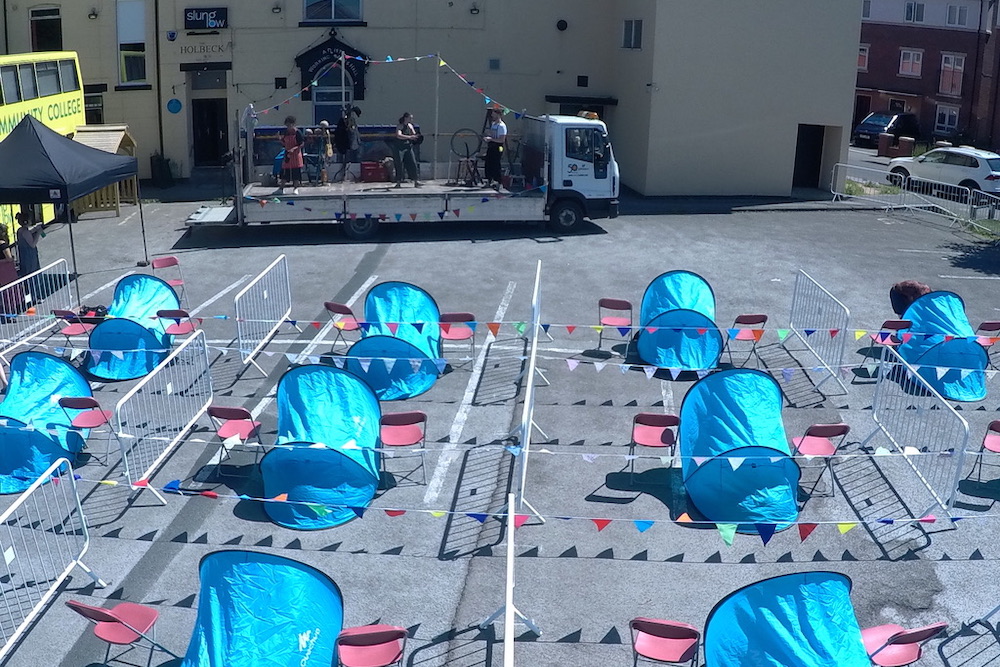 There's not been much theatre at The Holbeck club since it shut to customers and opened itself as an emergency food hub.
But on Friday 26 June Slung Low brought in children's theatre group Wrongsemble to put on a show for local families in the club's car park.
With actors on the back of a lorry and families sheltering from the sun in small tents on the carefully marked out tarmac. Slung Low rigged the sound using their headphone sets that they have pioneered at such outdoor shows as The White Whale, which they staged at Leeds Dock.
Alan Lane, Slung Low's artistic Director was at pains to point out that this wasn't a return to regular performances at The Holbeck, but was purely a one-off.
"This was not a reopening of our theatre. It is a continuation of the work we do as ward lead for social care referrals in Holbeck and Beeston.

"Every day we deliver hot meals from Mecca Bingo to 20 families in our local area. 65 children. We've seen them every day for the last 2 months. We've seen how they have coped with the time away from school, the weather, the impact of various legislation, the diet of sausage and chips 4 days a week and the endless tension in the air. And we've seen how their parents have managed with the same and the pressure they are under.

"So we decided over a month ago we would do something that might help. A date in the diary to look forward to, a change of activity, a moment of respite. Yesterday we built an auditorium of sorts full of tents and bunting. And our dear friends Wrongsemble presented a show called Three on the back of a lorry."
Families were invited personally, there were no tickets or even the usual pay-what-you-decide, and the show went down a storm with those present.
Feedback on Twitter included:
Wicked fun @SlungLow for great family entertainment by the incredibly talented and witty @wrongsemble for their production of 3, thank you 🥰 pic.twitter.com/y2q2Vpt34L

— Ruth Middleton (@StatueVsPigeon) June 25, 2020
Hooray to ⁦@wrongsemble⁩ ⁦@SlungLow⁩ for bringing joy to children -sunshine , tents at distance and LIVE storytelling 🤩☀️ #livelittlestoriesforleeds. ⁦@tuttifruttiprod⁩ ⁦@leeds_2023⁩ pic.twitter.com/a6qzorNNFH

— wendy harris (@harriswendy) June 25, 2020
https://twitter.com/damiandawtry/status/1276170511949709312