In recent months, the art departments at Cockburn John Charles Academy and Cockburn School have been working alongside Year 8 and Year 7 to design and decorate sculptures exploring Transatlantic Trade in Enslaved Africa.
The World Reimagined is a UK-wide art education project featuring globally-recognised artists which aims to transform how we understand the Transatlantic Trade in Enslaved Africa and its impact on us all. This is not 'Black History', this is all of our history.
The World Reimagined will see a trail of large Globe sculptures across 7 UK cities from 13 August to 31 October 2022, created by artists to bring to life a powerful journey of discovery that explores our shared history and the future we can create together.
It has been an exciting process from start to finish, but we are proud to announce that the globes will start their exhibition journey, first at Middleton Community Centre (Cockburn John Charles Academy) and Beeston Community Hub (Cockburn School) from Saturday (13 August 2022), followed by Leeds Railway station from 25 September to 9 October. The globes will then return home, to be on displayed in their schools.
Head of School at Cockburn John Charles Academy, Siobhan Roberts said:
"There is some real artistic talent within our student body, nurtured by the equally talented teaching staff, which has led to work from our students being exhibited in London and now taking pride of place in the local community and welcoming visitors to Leeds. We look forward to finding a permanent home for this amazing piece when it returns to us in September."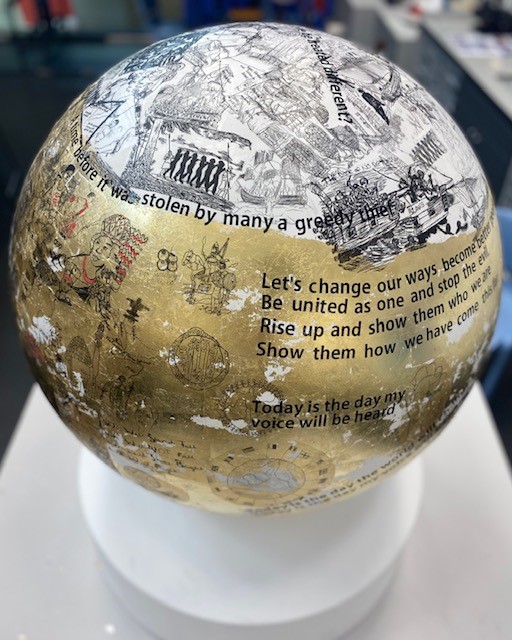 Top photo: Globe created by students at Cockburn John Charles Academy