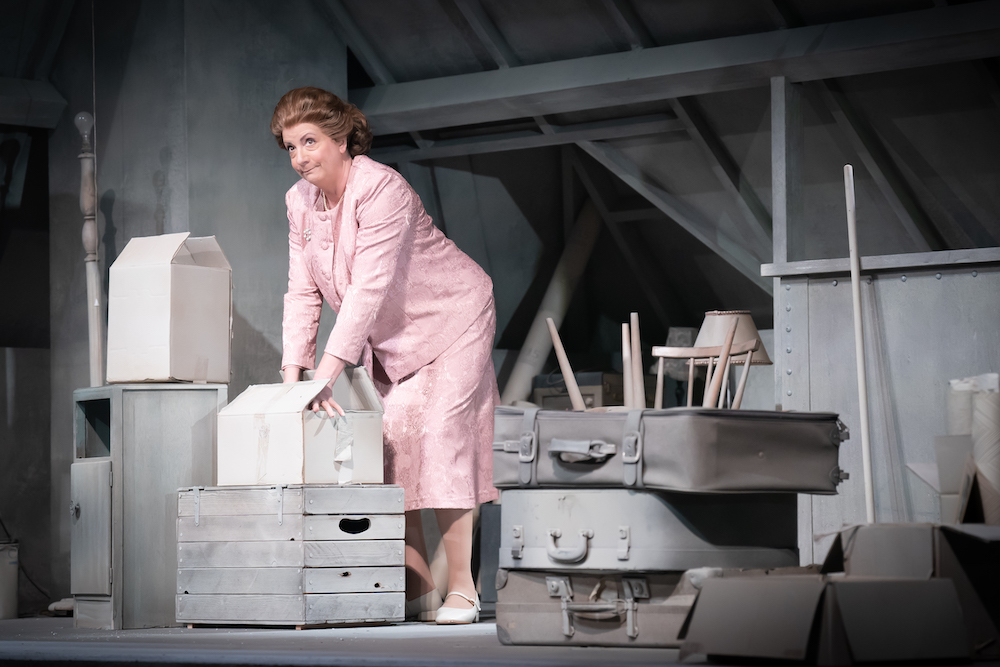 Kay Mellor – the beating heart of Leeds' writing scene? A major artery at the very least, so the showing of A Passionate Woman which debuted in the same playhouse (then West Yorkshire Playhouse) and same Courtyard theatre 30 years ago was very apt.
As the title would suggest the theme is love – a mother's love for her son, a wife's dying love for her husband and a woman's buried love for a past fleeting paramour. All those women are embodied in the main character Betty (Katherine Dow Blyton) who we meet in the attic on the morning of her only son's wedding. She is distracting herself from the perceived loss of Mark (Tom Lorcan) to his wife-to-be and has retreated into past memories including "Craze" (Michael Bijok) who resided in the basement flat under her and husband Donald's (David Crellin) first home. Despite being newly wedded Betty embarked on an intense affair with Craze. His "re-appearance" and Mark's impending move to Milton Keynes makes Betty face the realities of where middle age has taken her.
All – let's not forget the voice talents of Everal A Walsh and Martelle Edinborough who played the unseen Fireman and Margaret (Betty's sister) respectively – put in competent, solid performances. Dow Blyton who bears a passing resemblance to Mellor really resonated with the audience and from the first word she uttered to the last, she evoked laughter and even a semi standing ovation during the curtain call. This highlighted how much the audience related to the script which bore all the hallmarks of the Mellor formula and transitioned seamlessly through the genres of soliloquy, comedy, ghost tale, melodrama and the fantastical.
The set was as lively as the audience and the usual attic paraphernalia had a healthy dusting of grey which was transformed during Betty's supernatural reunion with Craze with the switching on of some strategically placed old lamps and a Christmas tree. It was ironically reminiscent of a fairground which the real-life Craze worked in (the play is based on Mellor's own mother's affair). One pivot of the set took us to the exterior of the roof (who'd have thought slates would make such a smashing back drop) which also managed to incorporate a hot air balloon which not a lot of plays can lay claim to.
Based on the audience response alone, all of whom seemed to connect to the characters and plot from opening of the curtains, I would recommend A Passionate Woman.
A Passionate Woman runs at Leeds Playhouse Courtyard Theatre until Saturday 10 June 2023. Full details at: leedsplayhouse.org.uk/event/a-passionate-woman
This post was written by reader Christine Brathwaite in return for two free tickets, as part of South Leeds Goes To The Playhouse.
Photo: Katherine Dow Blyton (Betty) in A Passionate Woman (Marc Brenner)

While you're here, can we ask a favour?
South Leeds Life is published by a not-for-profit social enterprise. We keep our costs as low as possible but we've been hit by increases in the print costs for our monthly newspaper – up 83% in the last 12 months.
Could you help support local community news by making a one off donation, or even better taking out a supporters subscription?
Donate here, or sign up for a subscription at bit.ly/SLLsubscribe