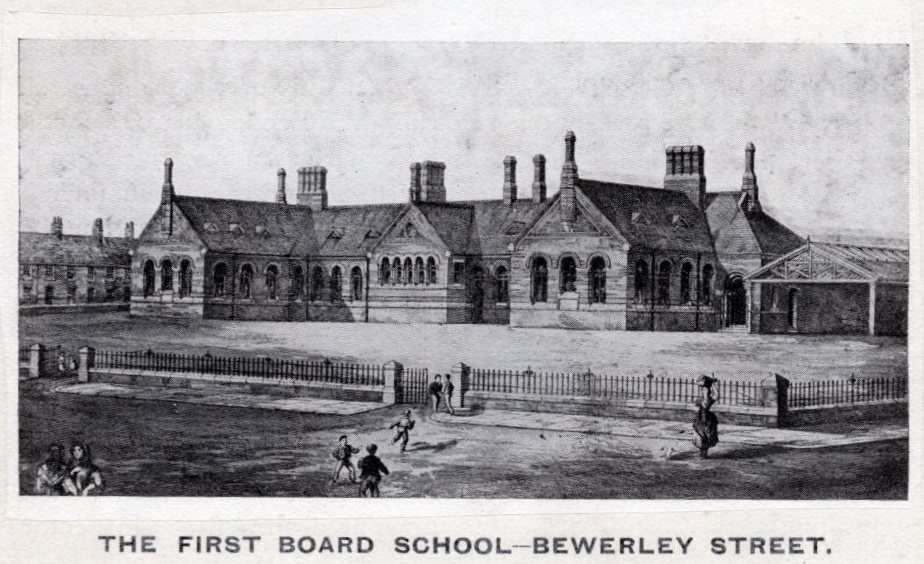 Education for working class children was definitely not a priority, they were expected to contribute to the family income by working, begging, or stealing.
Factory owners sometimes provided facilities to educating the children working for them and these children became known as half-timers – half a day working and half a day in the classroom.
Sunday Schools were another source of education for children, but a lot of them were more interested in the religious teachings. But all this was to change in 1870 when WE Forster's famous "Elementary Education Act" was passed by Parliament to take place in England, this authorised the setting up of School Boards.
Leeds was an early starter with the Leeds School Board coming into being on 28 November 1870 with fifteen elected members under the Chairmanship of Sir Andrew Fairbairn, Woodsley House and its Vice-Chairman was John Jowitt a Wool Merchant of Harehills with Mr Wesley Lee as the Clerk, a position he held until 1889 when he retired.
Two women candidates had decided to stand for election, a spinster, Miss Lucy Wilson of Hilary Place, Woodhouse Lane and Mrs Catherine Buckton of Moorland Terrace, Clarendon Road both unfortunately being unsuccessful.
Of course churches were anxious to have seats on the Board, this led to five Church of England candidates being elected along with two Roman Catholic and two Non-conformists, but the Reverend John Hutton Fisher Kendall of St Matthew's Church, Holbeck, was the only practising Clergyman to win a seat on the Board.
In 1871 the first task of the School Board was to find out the extent of the existing School provision and the number of children who would need elementary education so a Juvenile Census was undertaken, this revealed that 48,787 places were required but places for only 37,329 were available.
Temporary premises were needed while new schools were being built and in the January of 1872 thirteen temporary schools were opened, a scheme of education was adopted, and ten School Attendance Officers had been appointed.
South Leeds seems to have been lucky in that the first two purpose-built Board Schools were built here as was the last one, Cockburn. The first purpose-built School Board School to open was Bewerley Street Infants School, Hunslet, this was designed by George Corson, he also designed the School Board Offices near the Town Hall, and it opened its doors on 8 August 1873.
There were 1,948 boys, girls, and infants under three Head Teachers, JW Kirk BA, GP Shaw, and EA Kaye. By the 1950s the School was for Juniors only aged 7 to 11 years, the Infants having moved to a new school on Hunslet Hall Road. The next Board School to open, once again in our area, was Beeston on the 1 June 1874 for 606 pupils with the Mixed Class under R Watterson and the Infants under J Holland.
Prior to the Board School opening education in Beeston was quite limited. In 1822 schooling was under L Eyre, a Curate and Schoolmaster while an Ann Aliward ran a private school here for young ladies in 1830. Prior to 1874 the village children were half-timers, their education being dependent on work they had to do and the prosperity of their parents.
The 'Town School' in the early 1870s was run by one Samuel Bellhouse and Daniel Webster while an alternative education could be had under a Mr Tidyman who lived in Back Lane and later in Silver Street for 3d (1p) he was also the Village Scribe writing letters for the villagers at 2d (1p) a letter for this service, he had taken this task over from Joe Rhodes.
While the new Board School was being built for all the children eligible for State Education it was found that the 'Town School' was too small to accommodate the 139 village children and the Wesleyan Chapel in Chapel Fold was hired to take the overspill under a Miss Petts.
The first Headmaster of the new Board School situated at the top of Crow Nest Lane and Town Street junction was William Teal and his opening remarks in the School Log Book read "In this District education has been deplorably neglected and consequently many of the children have had little or no education."
Initially there were many problems with absentees being off sick with the many childhood illnesses of the time. One of which was the dreaded disease Scarlet Fever which killed six pupils and caused the school to close for a fortnight while it was disinfected. The 1884 miners strike, and the frequent visits of the Beeston Feast also contributed to absenteeism. However, this soon altered as the school became part of village life when it had the Library and the Yorkshire Penny Bank within its walls.
This old Beeston School was demolished like so much of Old Beeston and replaced by today's Beeston Primary School, standing in the same grounds.
The last and the eleventh School Board was elected on 22 November 1900 under the Chairmanship of George J Cockburn with Mr John Robinson as Vice-Chair. Mr Rowland H Barran had to resign after being elected as a member of Leeds City Council and MP for North Leeds, his place being taken by Charles JF Atkinson.
Leeds School Board built new Schools across the city. The first Higher Grade School was initially in temporary premises, but this was later to become the Central Higher Grade School which in its premises in Woodhouse Lane was to earn a national reputation.
The last school to be built was initially named the Southern High Grade School and opening on 17 July 1902 and built at a cost of £50,000 taking over the role previously filled by Bewerley Street School. The School changed its name later in honour of George J Cockburn, a Board member who had served nearly 21 years of the 32 years of the School Board's existence.
The 1902 Education Act did away with the School Board system making the City Council the responsible authority for education in Leeds and at the end of June 1903 the Leeds School Board ceased to exist.
Whilst you're here, can we ask a favour?
South Leeds Life is published by a not-for-profit social enterprise. We keep our costs as low as possible but we've been hit by increases in the print costs for our monthly newspaper – up 50% so far this year.
Could you help support local community news by making a one off donation, or even better taking out a supporters subscription?
Donate here, or sign up for a subscription at bit.ly/SLLsubscribe