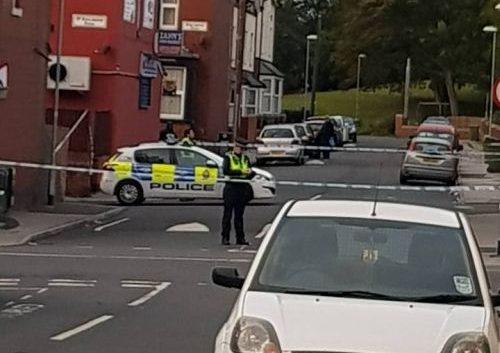 Last month, my wife and I had an unfortunate experience: three lads drove up outside our house in Beeston Hill, in broad daylight, with crowbars, jacked up our car, sawed the exhaust off our car, and drove off.
It wasn't a terrible thing (no-one got hurt, the car got fixed, and we did need a new exhaust anyway), but it was annoying and shocking: the sense of powerlessness; the brazenness; the insurance excess fee we had to pay. And maybe I shouldn't, but I shared it on social media – and I sense it contributed to that pervasive sense that Beeston is a place where bad things happen.
Sadly, south Leeds generally has a bad press. And of course, Holbeck has a particular profile, in the light of the Managed Zone especially. But when I talk to people outside of south Leeds, and if you read the YEP, and amongst what we all see and share on social media, you consistently come across Beeston's negative reputation: murders and attacks, drug raids, theft, and so on. And if you cast your minds back to 2005, terrorism.
This reputation is not of course groundless: there are plenty of distasteful things in Beeston. But at the same time, after 15 years here (so yes, I am still an incomer!), I love this place, despite the problems – and I see plenty of evidence of others who feel the same. So I've found myself wondering: is Beeston really substantially worse than (say) Gipton, Seacroft, Belle Isle, Bramley, East End Park, or similar communities?
I have a theory, and I'm not sure we are. Beeston's problem is its size. Very simply, Beeston is very very big: I reckon it's the biggest singular community (ie widely known by a single name) amongst the inner city communities of Leeds – where crime and other issues are unfortunately likely to be higher.
I've pored over maps and statistics (for instance, on the Leeds Observatory), and reckon the populations of different communities in Leeds pan out roughly as follows. It's impossible to exactly work out numbers of residents for different areas – because there's inevitably grey areas around where communities begin and end, around historical versus current naming, around overlapping names, and so on. I would genuinely welcome challenge and fresh insight on these figures, but here are my estimates…
Osmondthorpe: up to 5,000. Halton Moor: up to 7,000. Burley: up to 3,000. Hyde Park: up to 10,000. Woodhouse: up to 5,000. Little London: up to 8,000. Hunslet (not including historic Hunslet, eg Leeds Dock and surrounding developments in the city centre): up to 7,000. Gipton: up to 12,000. Harehills: up to 20,000. Chapeltown: up to 10,000. Armley: up to 16,000. Bramley: up to 21,000. Cross Green: up to 3,000. East End Park: up to 8,000. Burmantofts: up to 6,000. Linc Green: up to 6,000. Holbeck: up to 5,000. Cottingley: up to 3,000. Middleton: up to 20,000. Belle Isle: up to 11,000.
Beeston wasn't always massive: it was once a village hemmed in between Hunslet (once seen as running all the way to Cross Flatts Park), Holbeck (once seen as running all the way to the top of Beeston Road), and Millshaw (for more on that community, read our April Fools article from a couple of years ago). But history (especially the M621) and new developments have meant Beeston – let's call it Greater Beeston – is now widely if not universally seen as stretching all the way to the M621 by Holbeck and Hunslet Moor, encompassing everything along Dewsbury Road up to Middleton Park, and everything around Millshaw and Elland Road.
Here's what I think most people nowadays recognise as Beeston: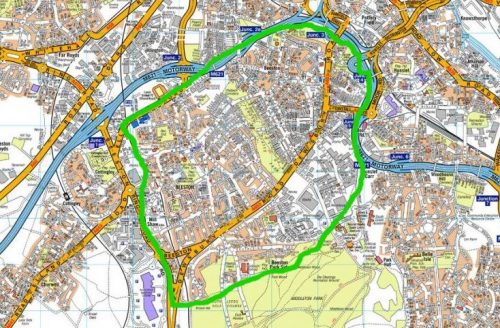 I estimate that makes for well over 30,000 people. By the sheer law of statistics and probability, it's utterly logical that Beeston experiences more reported crime than any other city community within Leeds – and suffers the poor reputation that follows. There are more of us here than any other community in inner Leeds, so more of us to be victims of crime. If for example, we fit the national statistics, and 1 in 5 of us suffer crime in a given year, that makes for over 6,000 that year. If by the same measure, 1 in 5 Chapeltown residents suffer a crime that same year, that's only 2,000 victims.
This is not for a moment to gloss over the very real issues we face in this community, and others like it: crime is a reality here, sometimes brutally so. But I'm not convinced that Beeston suffers higher rates of crime per person than similar communities (we could and perhaps should do further research) – it's just that our sheer size creates the impression that we do.
Finally, I was really struck and humbled by the local response to our (far from terrible) event last month: people generously gave us donations to help cover the insurance claim fee; no fewer than three neighbours offered to lend us their cars; and we got a lot of sympathy and solidarity from a very wide range of people. And whilst talking about the woes of Beeston last week, another local resident was arguing that Beeston has far more active groups and projects than similar communities (which again, statistically, you'd expect): there's much to be proud of in our area.
And wherever you live, I've been thinking: a community isn't (or at least, needn't be) defined by its struggles and problems, but by the way it responds to them. For sure, we face our fair share of battles – but, on this basis, I don't Beeston's doing too badly at all. What do you reckon?
PS: For the record, the police told us – based on their traffic camera records – that the thieves seemed to come in from near Wakefield to nick our exhaust. Just saying.