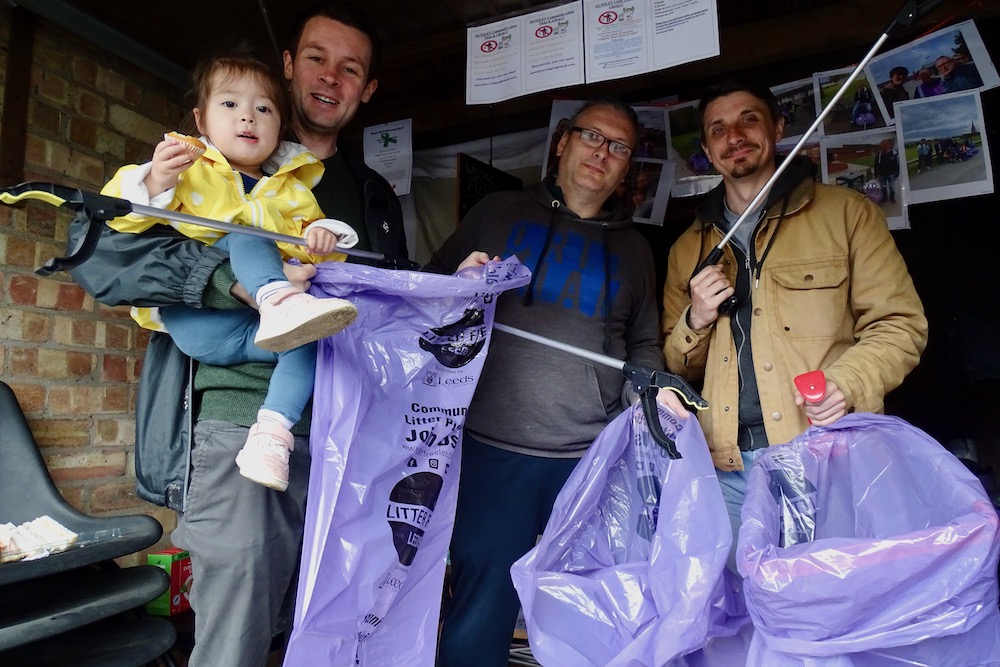 The Hunslet Litter Picking Library launched officially on 11 May. Open every Wednesday, 12-4pm, groups or individuals can hire sticks, bags and hoops to carry out their own litter picks.
The Library is run by Stewart Walton and operates out of a rented garage off Hemmingway Close in Hunslet. One of Stewart's customers is Tom who lives nearby on Penny Lane Way. Tom explained:
"I've been trying to set up a litter pick for my area just to try and change the culture. Since the pandemic I think dog fouling has got really out of hand and people are just chucking litter everywhere. The first one we did was on Hunslet Green playing fields with the Hunslet Club, we had about ten residents plus Paul (Cllr Wray) and Stewart, and we were joined by a dozen young people from the The Hunslet Club's youth club."
Tom is continuing with a monthly litter pick on his street on the first Sunday at 10:30am, unless it's raining.
As well as opening the library every Wednesday, 12-4pm, Stewart runs a litter pick every Friday 11am-1:30pm and another every Sunday, 12-2pm. The Sunday session is the most established is sometimes joined by staff and pupils from Low Road Primary School.
Stewart explained why he is passionate about litter:
"I was the Chair of Hunslet TARA for six or seven years and one thing that people always mentioned, more than anything else, was the state of the streets. I think it's the one thing that once people see you out, they recognise that you're actually doing something in the area, that's when it becomes noticeable. I'm a community person, I love getting people involved and helping people."
Cllr Paul Wray (Labour, Hunslet & Riverside) commented:
"From the Council's perspective, community engagement in keeping our communities tidy is always much more valuable than the Council doing it. This ward alone has 8 square kilometres of streets to litter pick, thousands of kilometres of road and pavement, so the community taking an active part, doing it themselves, not only builds community pride, community resilience, but is also a really huge help to our overstretched staff. So, anything that encourages people to a) take responsibility and b) do more in a way which is community minded, benefits the community, benefits the Council and its overstretched budget and so it's a win-win for everyone."
Stewart also thanked Peter Tiffany from Litter Free Leeds, who is also an Ambassador for Keep Britain Tidy, and the Leeds City Council Tenant Engagement Team for the support he had received.
You can find Hunslet Litter Picks and Library on Facebook here or contact Stewart directly by email: smwalton16@googlemail.com or call 07419 776356.
Photo L-R: Hunslet resident Tom and daughter, Stewart Walton, Cllr Paul Wray
While you're here, can we ask a favour?
South Leeds Life is published by a not-for-profit social enterprise. We keep our costs as low as possible but we've been hit by increases in the print costs for our monthly newspaper – up 83% in the last 12 months.
Could you help support local community news by making a one off donation, or even better taking out a supporters subscription?
Donate here, or sign up for a subscription at bit.ly/SLLsubscribe