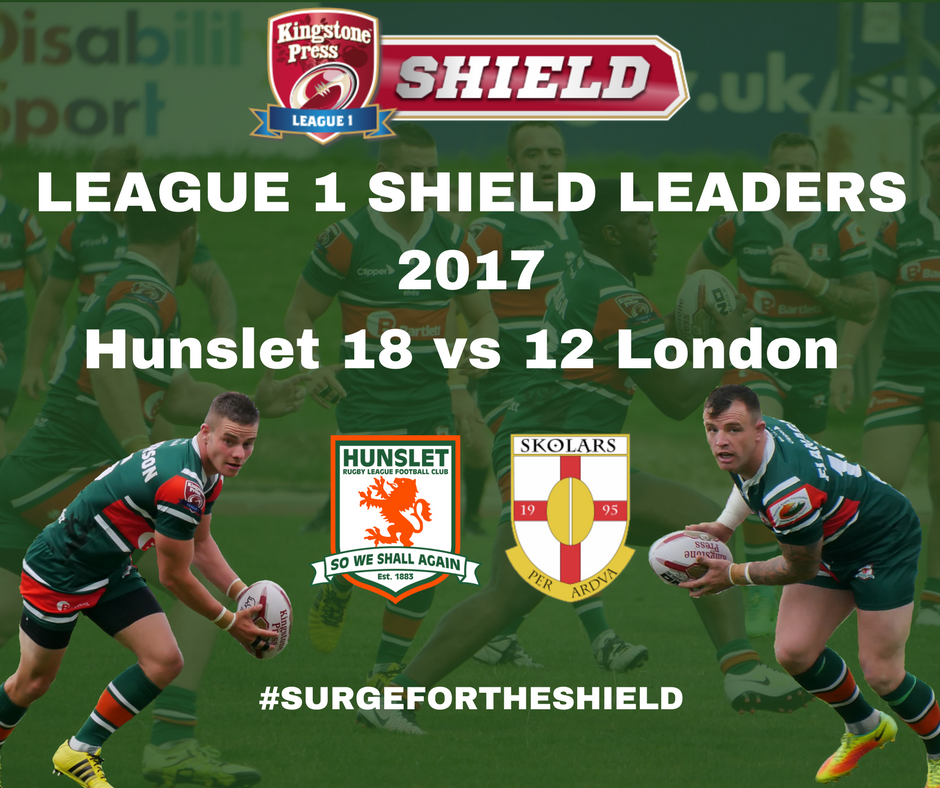 Hunslet RLFC 18-12 London Skolars
Hunslet RLFC won a tight contest today (17 September 2017) to secure home advantage in the Division 1 Shield against a buoyant London Skolars.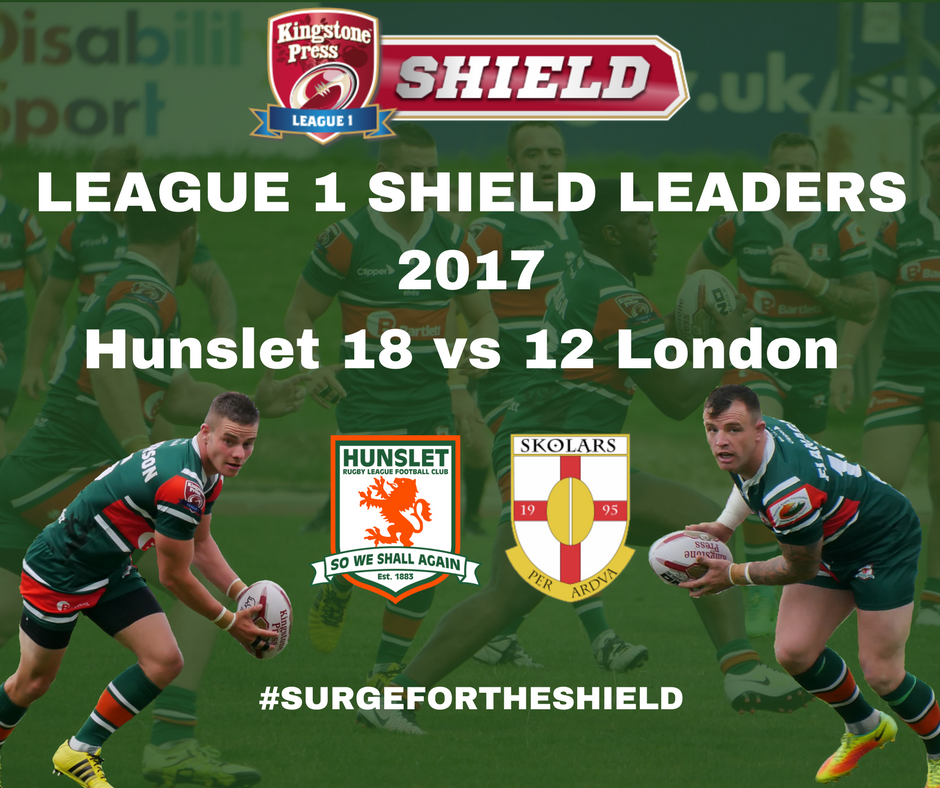 Both teams were confirmed to play in the final, but the last league meeting of the year determined who would get home advantage.
As expected the game started off edgily, with both teams trying to assert control. It was the big Skolars pack that  created the early chances and but for last ditch tackling by Mvadudu and Webb the visitors would have gained an early lead.
Hunslet then began to come into the game but slack tackling near the line allowed Mbaraga to score for the visitors from fairly close in. 0-6 after 20 minutes.
A stop/start first half riddled with injuries seemed to go on forever, and this seemed to favour the hosts. A fine move on 35 minutes involving Jimmy Watson put Marcus Webb over in the left corner with only inches to play with.
Uncharacteristically Sanderson missed the conversion and London took a 4-8 lead when they converted a penalty awarded for a late challenge on their kicker.
Influential player George Flanagan was sin-binned for this, but the man disadvantage didn't affect Hunslet as they were next to score. A Sanderson kick was fumbled and the loose ball picked up by Mackay, who fed Duckworth who then passed to a looping Sanderson to score in the corner.
8-8 at the break.
A torrential downpour at half time made the pitch slippy but this didn't effect the tempo of the game. Hunslet took a slender lead when Sanderson converted a penalty awarded for offside.
They then made an exciting break up the right side only to concede when from a scrum close to the London line the Skolars broke and Brown went 90 yards to score.
With the game being so tight at 10-12 to London the relief was enormous when on 65 minutes George Flanagan spotted a gap and went through for a trademark try to give Hunslet the advantage.
Sanderson converted and on 78 minutes edged Hunslet closer after the home side were awarded a penalty for a high tackle on Flanagan.
Although London threatened Hunslet hung on to win the game 18-12 and gain home advantage in next week's final.
The victory was bittersweet though as injuries to Man of the Match Matt Nicholson and Nyle Flynn may rule them out of next week's game. Hunslet, though must be favourites and let's hope a good crowd come to cheer them on for some much needed silverware.
Teams:
Hunslet RLFC: Jimmy Watson, James Duckworth, Mufaro Mvududu, Cameron Leeming, Marcus Webb, Joel Gibson, Joe Sanderson, Matthew Nicholson, George Flanagan, Lewis Reed, Liam Mackay, Danny Williams, Nyle Flynn. Subs: Dean Roberts, Jack Walton, Michael Haley, Jack Coventry.
London Skolars: Michael Bishay, Smokie Junor, Lameck Juma, Michael Brown, Jacob Ogden, Jermaine Coleman, Jy-mel Coleman, Robert Butler, Charlie Lawrence, Lamont Bryan, David Williams, Edward Mbaraga, Ryan Chester. Subs: Louis Robinson, Michael Greenhalgh, Philip Lyon, Joshua Allison.
Referee: T Grant
Hunslet will play London Skolars again in the final of the League 1 Shield on Sunday 24 September at South Leeds Stadium, kick off 3pm.
This post was written by Ian Pickles using our Create an article for South Leeds Life page.