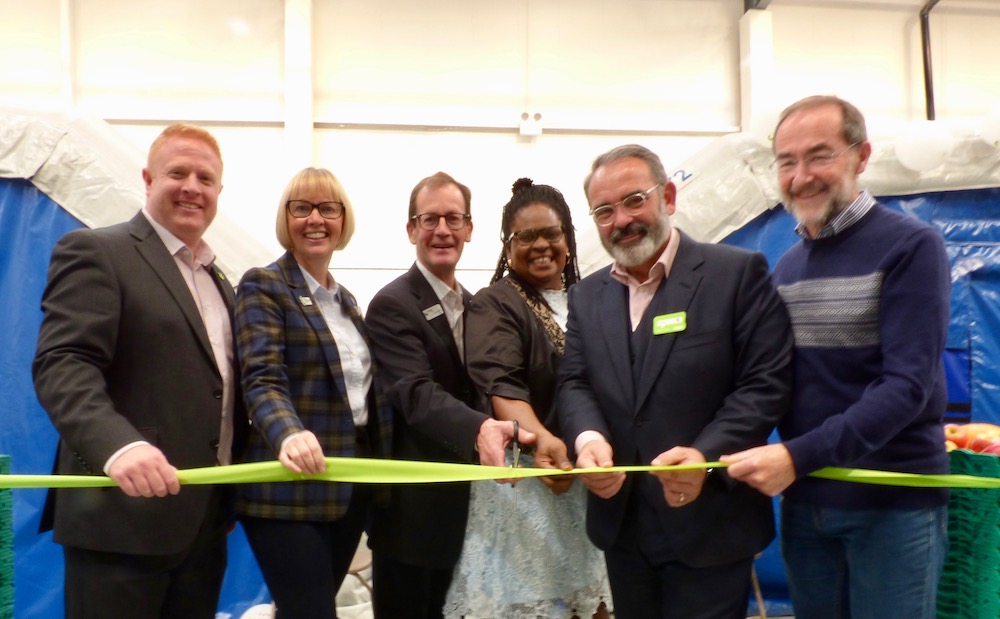 Two groups fighting food poverty in Leeds have opened a new shared warehouse in Beeston thanks to a grant from Asda's "Fight Hunger, Create Change" programme.
The warehouse, on the Parkside industrial estate, comes complete with two huge inflatable chiller rooms for fresh food and a fork lift truck to make full use of the space. A team of volunteers from Asda helped get the warehouse ready.
Fareshare work as brokers, sourcing still fresh food that retailers will otherwise send to landfill and distributing it to charities. Leeds South & East Foodbank is part of the Trussell Trust network of foodbanks giving out food parcels to families in crisis.
Speaking at the opening, John Casey, Chair of  Leeds South & East Foodbank, described the situation facing many people in our communities:
"Imagine living with no slack in your weekly budget, easily wrecked by random events – a broken washing machine, loss of earnings through illness. Imagine living with exhaustion as a result of doing more than one job to make ends meet. Imagine living with debt and fear of the bailiffs or payday lenders. Imagine living with no time for your kids. Imagine living with depression and anxiety as the norm."
He talked about Wilf and Jenny, pensioners who could only pay their fuel bills if they didn't eat. As well as being given a three day food parcel, they were put in touch with an adviser who helped them change their fuel provider and payment plan.
He talked about Theresa, whose main concern was her kids and was skipping meals herself. When she came she felt upset and embarrassed, she didn't like asking for charity. She was met with friendship and treated with dignity. She received emergency food plus suggestions about how she could change her situation. She left relieved and grateful.
Andy Murray, Asda's Chief Customer Officer, explained why the company had got involved.
"We asked our customers – What's the biggest thing we can do to make a change in your life? They told us – End food insecurity."
Asda has made pledged £20m over three years to improve the infrastructure of the two biggest frontline organisations: Fareshare and Trussell Trust. They are funding projects such as the warehouse, but also central staff and researchers to back up local volunteers. They are also making the knowledge, expertise and enthusiasm of Asda's 140,000 staff available to improve logistics and systems.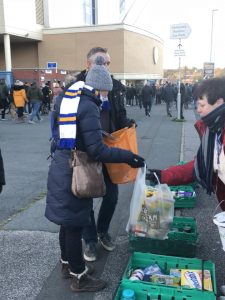 In the same week that the new warehouse opened, Leeds United Supporters Trust launched a food collection outside Elland Road ahead of the Nottingham Forest match. They collected a massive 415 kg, or 35 crates of food for the two main Leeds foodbanks. They will continue to hold collections at each home match.
You can donate food or money to Leeds South & East Foodbank to the warehouse at 7 Lenton Drive, LS11 5JW Monday-Wednesday 10am-3pm. Most supermarkets have a food collection point – why not add a few items to your weekly shop and donate them?
If you need help, get a voucher from the Council offices, Citizens Advice Bureau or Groundwork Green Doctors. There are four food distribution centres in South Leeds:
St Andrew's Church, Beeston
St Cross Church, Middleton
Hunslet Methodist Church
St John & St Barnabas Church in Belle Isle
More information online at: leedssouthandeast.foodbank.org.uk, or call (0113) 345 0850.