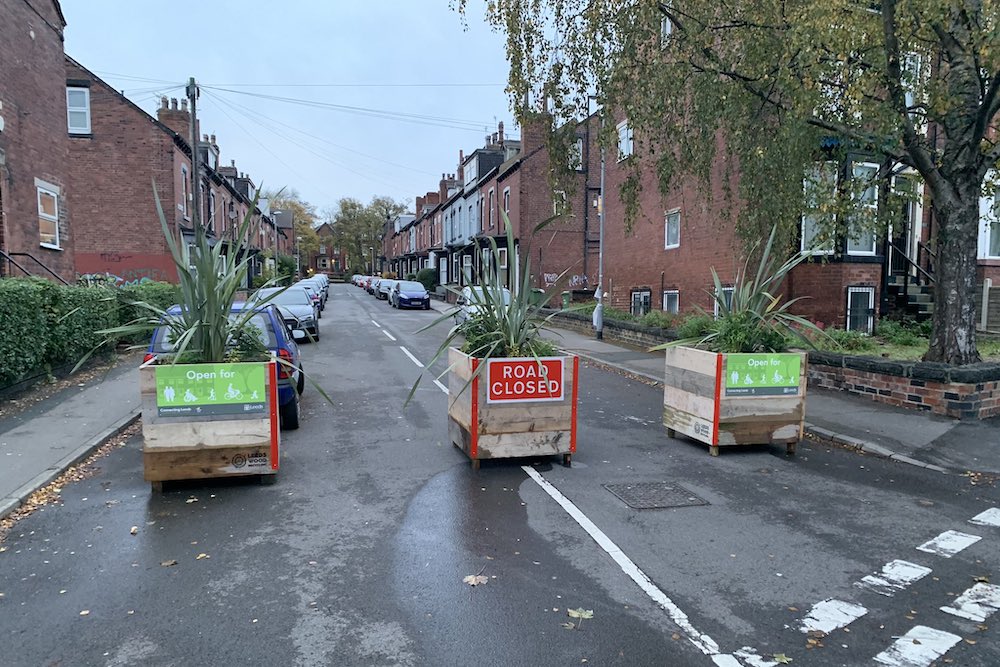 A package of measures aimed a promoting cycling and walking across South Leeds is set out in a report published by Leeds City Council. The schemes are part of a £2.7m city-wide programme known as the Active Travel Fund and funded by a government grant. The report authorises the council to start consultation, detailed design, and implementation of the schemes.
The Active Travel Neighbourhood (ATN) proposed for the Cross Flatts area of Beeston last year is set to come forward for consultation following amendments to the original scheme. A new ATM is planned for Middleton, with the boundary to be determined following community engagement.
ATMs start as trial zones and aim to make residential streets safer for pedestrians and cyclists by cutting off through traffic and stopping rat runs. They use planters to block roads to cars and vans, which can be moved as necessary as the trial develops.
Cycle routes are planned for Balm Road in Hunslet, Sweet Street in Holbeck and Elland Road. The Balm Road scheme is described as "light segregated cycle provision" and will run from the end of Belle Isle Road along Balm Road and Church Street. The report notes that it will result in the loss of central hatching and right turn pockets. The Sweet Street route will link Whitehall Road to Neville Street. The plans would lead to the creation of a one way street and loss of on street car parking places.
The Elland Road route is an extension to the current segregated cycle lane that runs as far as the Park & Ride to cross the Outer Ring Road. The plan would see the loss of the southbound nearside lane to traffic between Elland Road and Cottingley Drive. The report notes that this could cause
"Delays to buses and general traffic and queues on the Ring Road. There is some uncertainty in terms cumulative impact loss of right turn pockets will have. Surveys have been requested so that the changes can be modelled/assessed."
Finally, existing School Streets will be reviewed with a view to making them permanent. School Streets currently operate at Clapgate, Hugh Gaitskell, Ingram Road, Lane End and Middleton St Mary's Primary Schools.
Photo: Active Travel Neighbourhood in Hyde Park