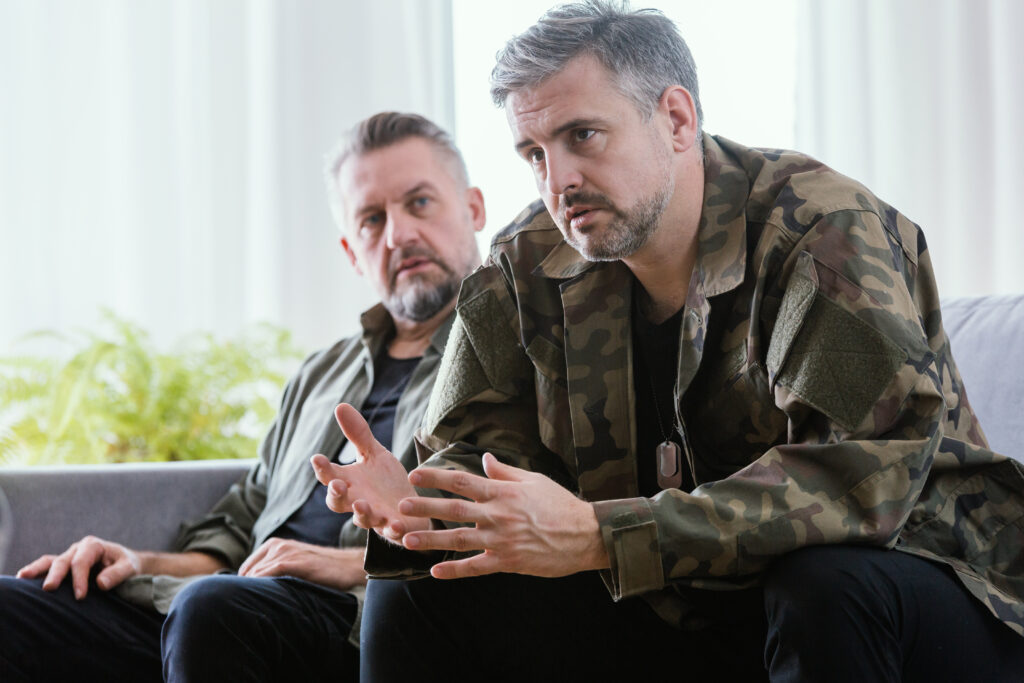 Trigger warning: this article discusses suicide
In the fourth of our series on male suicide, we spoke to Liam, one of the facilitators at ANDYSMANCLUB.
Talking about your problems, or how you are feeling, can be very difficult for men who have been brought up with the message 'boys don't cry' and to 'man up' to problems.
ANDYSMANCLUB (AMC) was set up in Halifax after Andy Roberts took his own life in 2016. His family wanted to do something practical and that was to create a space where men could talk.
That year nine men met in a small room in Halifax with a simple aim of talking through their issues and helping each other deal with their mental health. All in attendance were agreed there was a magic in that room that had to be shared.The idea has been so successful that they have spread nationwide.
There are two AMC meetings in South Leeds: one meets at Leeds College of Building on Cudbear Street in Hunslet and another at the Vale Circles centre on Tunstall Road in Beeston. Like every meeting nationwide they take place every Monday evening from 7-9pm.
We spoke to Liam one of the facilitators. He explained that he, like all facilitators is a previous user of the service. The meetings offer peer-to-peer support, they do not offer advice, there are no mental health professionals involved.
"When you arrive, I'll greet you and offer you tea and coffee and biscuits. I'll explain how the meeting works and that you don't have to say anything in the meeting unless you want to. I know what it's like to come into that room for the first time so I'll do my best to settle your nerves.

"Many men find listening to others helpful in itself. It's reassuring, there's a kind of warmth, a relief, that it's not just me, that whatever you're going through, whatever you're feeling, someone else is going through similar stuff."
Some people think that only a certain type of man would use a mental health charity, but Liam says it can happen to anyone – you can be sat with a postman on one side and a solicitor on the other.
The groups are well attended with up to 40 at the Building College and 20 at Vales Circles, but there's always room for anyone who needs to be there.
Comments AMC receive such as "Thank you for giving me my husband back" give a powerful endorsement to their work.
Another man wrote they had attended AMC Leeds for the fourth week in a row and this is the first time he got into his car afterwards and he put the rope that was in his car away, he put his pills away; he'd decided he wouldn't take his own life.
"The real value that we add" says Liam, "is for guys like me that are not plugged into any other services or charities and if AMC didn't exist, they wouldn't have gone anywhere else."
Liam also tells me of a user whose son took his own life five years ago. He kept things going at home and made sure everyone else in the family was OK, but now needs to look after himself and finds AMC is the place to do that.
You can find out more at: andysmanclub.co.uk
Men In Need Together (MINT) are another local charity offering a similar safe space to talk and listen. They meet at BITMO's GATE, Aberfield Gate, Belle Isle, LS10 3QH every Tuesday, 7-9pm.
You don't need to book or register for these groups, just turn up. It's OK to talk.
Other groups providing support to men include the Menspace Drop-in at Cranmore & Raylands Community Centre, Cranmore Drive, Belle Isle, LS10 4AW every Thursday from 9:30am.
Leeds Dads run play and social events to support dads with young (pre-school) children and dads to be. Full details at: leedsdads.org
When life is difficult, Samaritans are here – day or night, 365 days a year. You can call them for free on 116 123, email them at jo@samaritans.org, or visit samaritans.org to find your nearest branch.
Photo: Shutterstock
Read A Silent Emergency
Read Preventing suicide looking at the statutory services' response
Read Male suicide: two South Leeds stories  we spoke to two women, one who's partner took his life and a mother who's son has suicidal thoughts
Read Pathways for positivity: The man behind the smile suicide prevention advice

Whilst you're here, can we ask a favour?
South Leeds Life is published by a not-for-profit social enterprise. We keep our costs as low as possible but we've been hit by increases in the print costs for our monthly newspaper – up 83% this year.
Could you help support local community news by making a one off donation, or even better taking out a supporters subscription?
Donate here, or sign up for a subscription at bit.ly/SLLsubscribe